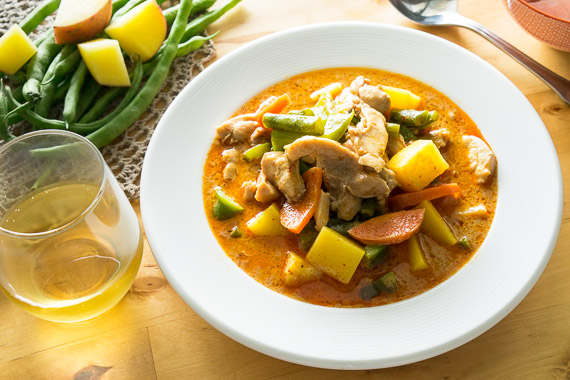 Massaman Chicken Curry, Loaded with Veg; Inspired by Sohé Thai Fusion in East Fremantle
Prep time: 30
Calories: 540
Whilst we've delivered a Massaman Curry before, this is a completely new version from our friends at Sohé Thai Fusion in East Fremantle. The key to the authentic flavour is quality palm sugar and fish sauce that creates a balance between salty, sour and sweet. We've added extra vegetables to make it a tasty and healthy mid week meal. #youplateit
Ingredients
1 Dutch Cream Potatoes

1 Garlic Clove

1 Tomato (small)

1 Carrot

70 Grams of Green Beans

1 Green Capsicum (small)

1 Palm Sugar Piece

3 Chicken Thighs (skinless)

50 Grams of Massaman Curry Paste

1 400 Gram Pack of Coconut Milk

2 Tablespoons of Fish Sauce
Recipe
Prepare Ingredients:
Wash the fresh produce. Cut potatoes into 1-2 cm cubes. Peel and thinly slice the garlic. Medium dice the tomato. Halve the carrot lengthways then finely slice into half circles. Trim the ends off the beans, cut into 2-3 cm pieces. Halve the capsicum, cut one half you will have remainder into 3 x 1 cm pieces. Roughly chop the palm sugar. Pat dry the chicken with paper towel and cut into ½ cm strips.
Start Curry:
Heat about 1 tablespoon vegetable oil in a pot over medium heat. Add curry paste and diced tomato, cook for about 1 minute. Add the garlic, fish sauce, palm sugar and coconut milk. Mix well to combine.
Add Ingredients:
Add chicken and diced potato. Gently simmer for 7 minutes.
Add Carrot & Beans:
Add carrot and beans. Gently simmer for another 7 minutes, or until vegetables are tender and cooked to your liking.
Season & Finish Curry:
Remove from heat. Stir through capsicum. Season with salt to taste. Divide between bowls to serve. Enjoy!