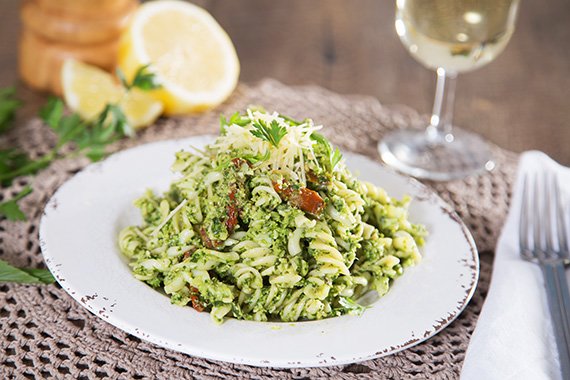 Mean Green Broccoli Pesto Pasta Inspired by Donna Hay
Prep time:

20

minutes

Calories: 620
It's all about the green. Broccoli is a great source of vitamins K and C, a good source of folate (folic acid) and also provides potassium, fiber. Vitamin C is a powerful antioxidant and protects the body from damaging free radicals. So this mean green broccoli pesto pasta is full to the brim with goodness! Share your #youplateit moment with us on Instagram or Facebook and enjoy!
Ingredients
1 Broccoli (small)

1 Garlic Clove

1 Lemon

1 Small Bunch of Parsley & Mint

1 75 Gram Pack of Baby Spinach

200 Grams of Fusilli Pasta

30 Grams of Sundried Tomatoes Pieces

0.25 Cups of Parmesan (Shredded)

40 Grams of Hazelnuts
Recipe
Prepare Ingredients:
Place the broccoli in a food processor and pulse until it resembles grains of rice (try 5 bursts of 3 seconds each). Alternatively you can finely chop by hand. Zest lemon and cut into wedges. Pick parsley and mint leaves (discarding stems). Place a large pot of salted water on stove to boil (to cook pasta in step 3).
Cook Broccoli:
Place olive oil (enough to cover the base) in a large deep-sided non-stick frying pan over medium heat. Add the broccoli and cook, stirring with a spatula, for 3–4 minutes or until broccoli is almost soft but still bright green. Remove from the heat.
Cook Pasta:
Cook the pasta in a large saucepan of salted boiling water, for 6 - 8 minutes or until just al dente. Drain and reserve ¼ cup of cooking liquid.
Finish Broccoli Pesto:
While the pasta is cooking; Place hazelnuts, mint, parsley, spinach, lemon zest and juice, ½ the parmesan and 4 TBS olive oil in the food processor and process into a rough paste. Add to the pan with the broccoli, scraping the sides with a spatula.
You Plate It:
Place the pasta and the reserved liquid into the pan with the broccoli pesto. Place over low heat, add sundried tomatoes and season with salt and pepper and stir until heated through and combined. Divide pesto pasta amongst bowls and garnish with remaining parmesan. Enjoy