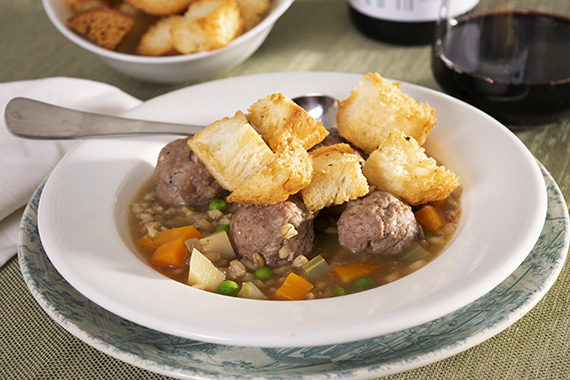 Meatball and Barley Soup with Vegetables & Home made Croutons
Prep time: 35
Calories: 510
Just what you need as these nights get cooler - a hearty, warming soup. Added meatballs give this soup a little oomph and appeal to the younger family members ; and barley soaks up all the goodness. Share your #youplateit moment on Instagram and enjoy!
Ingredients
1 30 Gram Pack of Concentrated Beef Stock

1 Brown Onion

1 Carrot

1 Stalk of Celery

1 Parsnip

0.5 Cups of Pearl Barley

2 Garlic Clove

250 Grams of Beef Mince

1 Stalk of Rosemary

40 Grams of Peas

1 Sourdough Roll
Recipe
Prepare Ingredients:
Preheat oven to 180°C. Wash the fresh produce. Peel and mince garlic. Small dice onion. Quarter parsnip lengthwise, remove and discard the core it can be a bit woody. Cut remaining parsnip, celery and carrot into 1 cm dice. Remove rosemary leaves, discarding stems.
Prepare Soup:
In a large pot or pan, combine carrot, celery, parsnip, pearl barley, rosemary as well as half of both the onion and garlic. Add stock concentrate and 4 cups of water. Bring to the boil over high heat. Reduce heat to low, cover and cook for 30 minutes.
Make Meatballs:
Meanwhile, place the mince, remaining onion and garlic in a bowl. Season with salt and pepper, and use your hand to mix well. Roll tablespoons of mixture into balls roughly 8 meatballs and place on a lined oven tray and cook in the oven for 10 minutes.
Make Croutons:
Roughly cube the bread roll and place bread cubes on a lined baking tray with a drizzle of olive oil, salt and pepper. Toss to lightly coat bread and spread cubes in single layer and bake in oven for 10-12 minutes or until golden. Set aside.
Add Meatballs & Peas:
After 25 minutes of the soup simmering, add in the cooked meatballs and peas. Season to taste and return to a gentle simmer for 5 more minutes.
You Plate It:
Ladle soup and meatballs into serving bowls, top with croutons and serve. Enjoy!