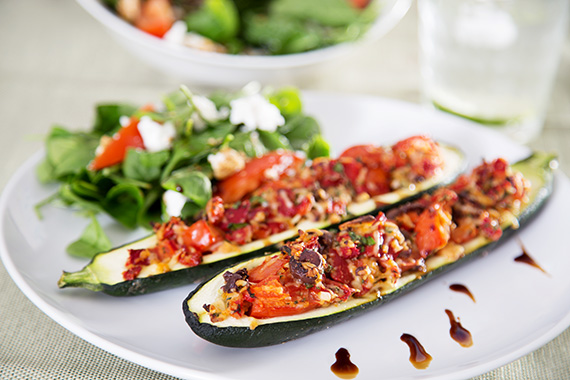 Mediterranean Stuffed Zucchini with Spinach & Fetta Salad
Prep time: 30
Calories: 300
Olives, oregano and fire roasted capsicums give these zucchinis a beautiful Mediterranean flavour. Healthy, delicious and packed full of goodness, these stuffed zucchini showcase just how versatile zucchini's can be! Combined with a simple tomato and fetta salad, we're sure you'll enjoy it too. Share your moment on Instagram #youplateit.
Ingredients
2 Zucchini

150 Grams of Fire Roasted Red Capsicum

2 Tomato (small)

35 Grams of Kalamata Olives (pitted)

20 Grams of Parmesan (Shredded)

50 Grams of Fetta Cheese

1 Small Bunch of Flatleaf Parsley

0.5 Teaspoons of Dried Oregano

2 Garlic Clove

30 Grams of Panko Bread Crumbs

1 75 Gram Pack of Baby Spinach

1 Tablespoons of Balsamic Dressing
Recipe
Prepare Zucchini:
Preheat oven to 180°C. Wash the fresh produce. Cut zucchini in half lengthwise and scoop out the middle with a spoon. Discard or eat the flesh some people love it!. Set aside.
Prepare Stuffing:
Finely chop roasted capsicum and olives. Peel and mince garlic. Small dice 1 tomato and cut the other tomato into wedges 10-12 in total. Pick parsley leaves, discard stems and roughly chop. In a bowl combine roasted capsicum, diced tomato set aside tomato wedges, olives, oregano, garlic, parmesan and breadcrumbs. Season with salt and pepper and mix well.
Fill Zucchini:
Place zucchini on a lined baking tray. Fill each zucchini with the stuffing, distributing evenly. Place in oven and cook for 20 minutes, until zucchini has started to brown.
Prepare Salad:
In the meantime, combine spinach, tomato wedges and crumbled fetta in a bowl. Toss salad together with balsamic dressing.
You Plate It:
Divide salad between plates and serve with stuffed zucchini - Enjoy!