Description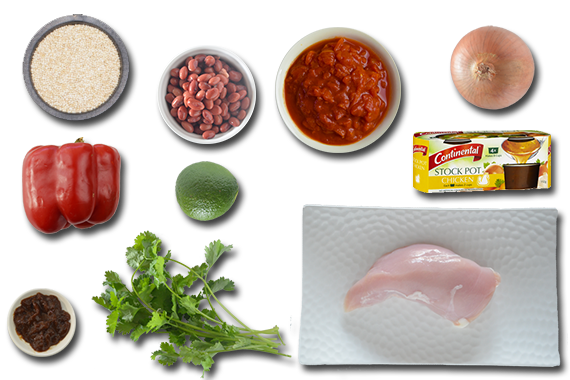 Ingredients
1 Brown Onion
1 Red Capsicum (Small)
0.33 Cups White Quinoa
2 Chicken Breast
3 Tablespoons Chipotle in Adobo
1 400 Gram Pack Diced Tomatoes
1 30 Gram Pack Concentrated Chicken Stock
1 300 Gram Pack Red Kidney Beans
1 Small Bunch Coriander
1 Lime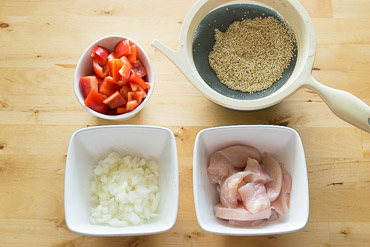 Prepare Ingredients:
Wash the fresh produce. Small dice or slice ¾ of the onion (you will have remainder). Medium dice the capsicum into 1½ cm pieces. Wash quinoa well under cold water in a fine strainer, gently rubbing the seeds together with your hands to remove any remaining residue. Pat dry the chicken with paper towel, cut into 1 cm slices.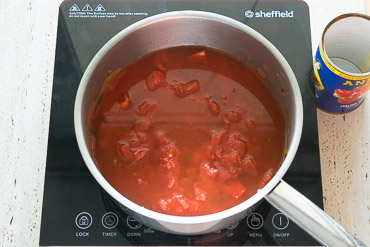 Start Stew:
Heat oil in a medium pot to medium heat. Add onions, cook for about 5 minutes. Add capsicum and cook for about 2 minutes until softened. Reduce heat to low. Stir in the chipotle in adobo for 1 minute (if chunky, use a fork to mash against the side of the pot), followed by the diced tomatoes and the concentrated chicken stock. Add up to a tomato can-full of water and stir to combine. Adjust heat to bring to a gentle simmer.
Add Chicken & Quinoa:
Add the sliced quinoa, chicken and ½ teaspoon salt then gently simmer, stirring occasionally, for about 15 minutes until the chicken is cooked through and the quinoa is cooked to your liking.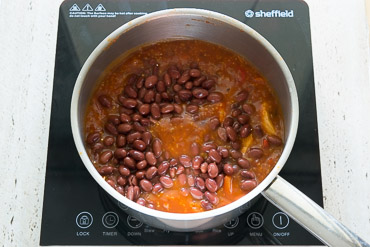 Add Red Kidney Beans:
In the meantime, drain and rinse the red kidney beans. Add in the final minute of cooking.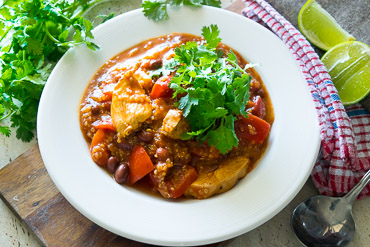 You Plate It:
Taste and adjust seasoning as required. Divide the stew between bowls. Cut the lime into quarters. Scatter over coriander leaves just before dishing up and squeeze over juice from the lime to taste. Enjoy!