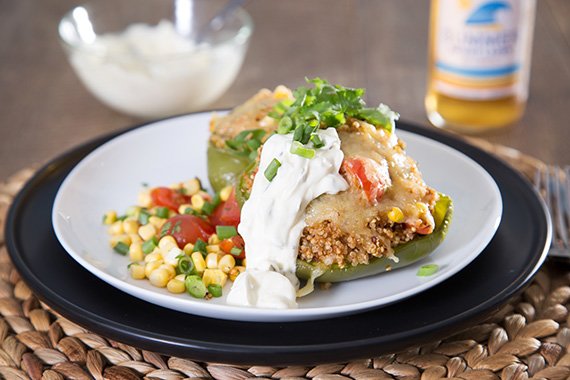 Mexican Quinoa & Salsa Filled Peppers with Jalapeno Cream
Prep time:

30

minutes

Calories: 490
Some nights you just need a quick and easy meal. In these quinoa stuffed peppers, fresh corn from the cob, black olives, and cherry tomatoes are added to the quinoa along with a refreshing salsa. With a bit of cheese melted over the top and jalapeno sour cream - this is a winning vego dinner. Share the moment #youplateit with us on Instagram and Facebook, and enjoy!
Ingredients
2 Green Capsicum (small)

0.5 Cups of White Quinoa

2 Teaspoons of Vege Stock Concentrate

120 Grams of Cherry Tomatoes

1 Small Bunch of Coriander

20 Grams of Sliced Jalapenos

1 Sweet Corn Cob

3 Tablespoons of Black Olives (sliced)

70 Grams of Grated Pizza Cheese

80 Grams of Sour Cream

1 Teaspoons of Chipotle Chili Powder & Smoked Paprika

1 Spring Onion
Recipe
Cook Quinoa:
Preheat oven to 200°C. Bring a large pot of water to a boil over high heat (for step 2). Place quinoa into a fine sieve/colander and rinse well under cold water. Place quinoa in a pot with vege stock concentrate, 2 cup of water and bring to the boil. Reduce heat and simmer for about 10 minutes or until all liquid has been soaked up and quinoa is tender and fluffy.
Prepare Capsicums:
Preheat oven to 200°C. Wash the fresh produce. Cut capsicums in half vertically. Use a small knife (or hands) to remove seeds and ribs. Add to boiling water and cook for 5 minutes. Carefully remove capsicums from boiling water, drain, then place open side up, in an ovenproof baking dish on a lined baking tray.
Prepare Remaining Ingredients:
Cut cherry tomatoes into quarters. Remove the husks and silks from the corn. Holding the corn cob upright, cut downwards towards chopping board, cutting the kernels off the cob. Thinly slice spring onion. Roughly chop jalapenos. Pick coriander leaves, discarding stems, and roughly chop.
Make Quinoa Filling:
In a small bowl, combine corn kernels, tomatoes, spring onion, chipotle & smoked paprika and coriander (to taste). Add olives and ¾ of the salsa to the cooked quinoa. Season with salt and pepper and mix well to combine.
Stuff & Bake Capsicums:
Fill the capsicum halves with quinoa stuffing and top with grated cheese. Bake in the oven for 10 - 12 minutes, until golden. Meanwhile, in a small bowl combine jalapenos (to taste) and sour cream. Season if required and mix well.
You Plate It:
Divide the stuffed capsicums between plates and serve with the remaining salsa. Top with jalapeno cream and any remaining coriander. Enjoy!