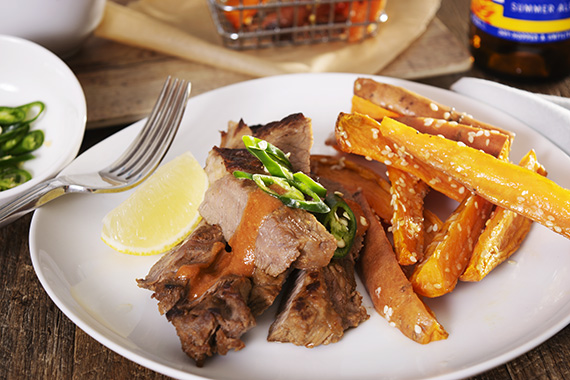 Miso Chili Steak with Sesame Sweet Potatoes
Prep time: 25
Calories: 573
In this Asian twist on steak and chips you cook your steak with a chili miso baste and sesame-flecked sweet potatoes. You can control the chili heat by adding more or less Miso Chili Sauce to your taste - be game, you might surprise yourself!
Ingredients
450 Grams of Sweet Potato (Small)

2 Teaspoons of White Sesame Seeds

2 Tablespoons of Miso Chili Steak Sauce

400 Grams of Porterhouse Steak (Thick-Cut)

1 Green Chili

1 Lemon
Recipe
Cook Sweet Potato:
Preheat oven to 180°C. Wash and cut sweet potato into wedges, keeping roughly the same size to ensure even cooking. Spread over a lined baking tray and coat with a little oil, salt and pepper. Sprinkle sesame seeds over wedges and bake in the oven for 25 minutes.
Marinate Steak:
Cut lemon into quarters. Pat dry the beef with a paper towel. In a small bowl, combine miso chili steak sauce and juice from ¼ of the lemon, mixing well. Add half the marinade to the beef, coat and set aside for 10 minutes.
Cook Steak:
Heat olive oil in a large pan over medium-high heat. When oil is shimmering, add steak and cook 2-3 minutes before flipping. Flip 3 times for a total cooking time of 10-12 minutes or to your preferred doneness. Remove from pan and allow to rest.
Slice Steak:
Thinly slice chili de-seeding if you want less heat. Slice steak as thick or thin desired.
You Plate It:
Divide sweet potato between plates and add sliced steak. Top steak with as much remaining sauce as desired. Garnish with sliced chili and lemon wedge. Enjoy!