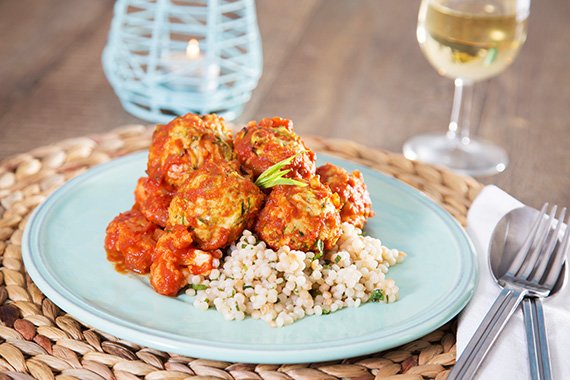 Moroccan Chicken Meatballs with Mint Couscous, Tomato & Cauliflower
Prep time:

35

minutes

Calories: 520
It's no secret that we are lovers of Moroccan flavours - and from the feedback we receive, it seems you guys are fans too! In this recipe, we have hidden some zucchini in the chicken meatballs, along with some green olives and spices for a bit of punch. Our minted pearl couscous comes with a tomato and cauliflower sauce and rounds it all out - midweek dinner done right!
Ingredients
1 of Brown Onion

220 g of Chicken Mince

1⁄2 Cup of Panko Bread Crumbs

2 Tsp of Ras El Hanout

2 of Garlic Clove

1 Tsp of Smoked Paprika

1⁄2 Cup of Israeli Couscous

1 Small Bunch of Mint

1 of Zucchini

50 g of Green Olives (pitted)

1⁄4 of Cauliflower
Recipe
Prepare Ingredients:
Preheat oven to
200°C.
Wash the fresh produce. Peel and small dice
3
⁄
4
of the
onion
(you will have left over). Peel and mince
garlic.
Pick
mint
leaves and roughly chop, discarding stems. Trim
zucchini,
cut length ways and scrape out the seeds, grate on a box grater. Roughly chop
olives.
Trim
cauliflower
and cut into small, bite size florets.
Start Sauce:
Heat olive oil in a deep sided pan (enough to cover base) over medium heat. Add
half of the garlic, onion, smoked paprika
and
cauliflower
florets and sauté for 2 minutes, until fragrant. Add
passata
.
Reduce heat, cover and simmer
for 10 - 12 minutes, until cauliflower is tender.
Make & Bake Meatballs:
In a large bowl, combine the
chicken mince, remaining onion and garlic, zucchini, breadcrumbs, green olives
and
Ras El Hanout
; season with salt and pepper. Mix gently to combine. Using your hands, form the mixture into about
8 - 12
equal sized balls and place on a lined baking tray. Bake in the oven for 10 minutes.
Cook Couscous:
In a pot, heat a little olive oil (enough to cover the base). Add
couscous,
toasting 2 - 3 minutes before adding
1
⁄
2
cup of water. Bring to the boil.
Add lid, then reduce to simmer.
Stir occasionally, 8 - 10 minutes, until all the liquid has been absorbed. Once cooked, fluff
couscous
with a fork. Add chopped
mint
and season with salt and pepper.
Add Meatballs:
Add
chicken meatballs
to the
sauce
. Simmer for a further 2 minutes, stirring to coat.
You Plate It:
Divide
minted
couscous
between plates and top with
chicken meatballs
and
sauce.
Garnish with any
remaining mint
and enjoy!