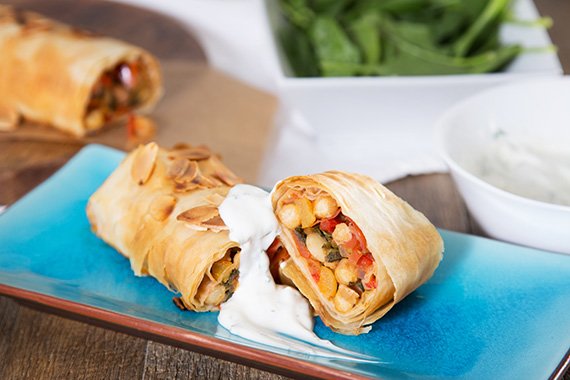 Moroccan Chickpea & Spinach Filo Strudel with Almonds & Minted Yoghurt
Prep time:

40

minutes

Calories: 750
Hints of cinnamon, smoky paprika and coriander combined with plenty of vegetables and crunchy filo pastry - this aromatic, delicious recipe is a good one to have up your sleeve. It requires a little bit more time than our usual recipes but it is well worth it! Share the moment #youplateit with us on Instagram and Facebook - we love seeing you triumph!
Ingredients
1 Red Onion

1 Red Capsicum (Small)

40 Grams of Dried Apricots

1 Small Bunch of Coriander & Mint

1 400 Gram Pack of Chickpeas

1 75 Gram Pack of Baby Spinach

0.5 Tablespoons of Harissa Paste (Classic)

1 Tomato (small)

2 Teaspoons of Moroccan Strudel Spice

30 Grams of Flaked Almonds

80 Grams of Filo Pastry

80 Grams of Greek Yoghurt

30 Grams of Butter (Salted)
Recipe
Prepare Ingredients:
Preheat oven to 200°C. Wash the fresh produce. Peel ¾ of the red onion (you will have left over), then slice thinly into half rings. Deseed capsicum and cut into thin slices. Finely chop the apricots. Drain and rinse the chickpeas. Pick coriander and mint leaves, discarding stems, roughly chop and keep separate. Medium dice tomato.
Start Strudel Filling::
Heat oil in a pan (enough to cover base), add onion and cover with a lid (or foil). Sweat over a low heat until soft, about 5 minutes, checking regularly that they don't begin to brown. Remove lid, add capsicum and continue to cook until the capsicum begins to soften, about 4 minutes, stirring occasionally.
Finish Strudel Filling:
Add the harissa and Moroccan strudel spice. Mix well and cook for 1 - 2 minutes. Add the tomato and apricots to the pan. Stir well and simmer gently, uncovered, for 5 minutes, to drive off excess liquid and concentrate the flavour. When the mixture is moist but not runny, add the chickpeas and a large handful of spinach and heat until just wilted. Add the chopped coriander and ⅔ of the flaked almonds. Season with salt and pepper, remove from the heat.
Prepare Filo & Roll Strudel:
Melt the butter in a microwave in 10 second intervals. Carefully unroll the filo pastry on a clean work surface. Cover with some damp sheets of paper towel to stop it drying out. Take a sheet of pastry and carefully brush with some melted butter. Set a second sheet of pastry over the first and repeat. Continue, making 4 layers (in total). Brush the pastry with the melted butter and place the chickpea strudel filling in a line - down the short edge of the pastry. Tightly roll the pastry around the filling,
Bake Strudel & Prepare Yoghurt:
Gently place the strudel onto a lined baking tray, with the pastry join underneath. Brush the pastry with more butter and sprinkle over the remaining almonds. Bake in the middle of the oven for 15 - 20 minutes, or until the pastry is golden brown and the filling is piping hot. Remove from the oven. In the meantime, combine the yoghurt and mint in a small bowl and mix well. Season with salt and pepper.
You Plate It:
Carefully cut the chickpea strudel into pieces as you desire. Serve with minted yoghurt and any remaining spinach leaves. Enjoy!