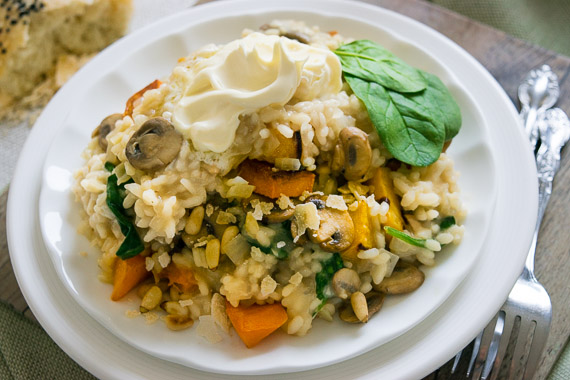 Mushroom, Pumpkin and & Spinach Risotto with Mascarpone
Prep time: 40
Calories: 510
Before you start: This meal will take 40-45 minutes to prepare. Despite the extra time, we think it's the perfect meal for this time of year: warm, filling and loaded with tasty goodness. Arborio rice is a short-grain variety that when cooked, releases starches to become creamy. A tasty consequence of this cooking behaviour is that the rice will absorb flavours around it and create a delicious creamy texture. Happy cooking and share the moment you plate it on Instagram #youplateit
Ingredients
0.5 Butternut Pumpkin

1 30 Gram Pack of Concentrated Vegetable Stock

150 Grams of Mushrooms

1 Brown Onion

2 Garlic Clove

120 Grams of Arborio Rice

0.25 Cups of White Wine

1 75 Gram Pack of Baby Spinach

0.3 Cups of Parmesan Cheese

0.125 Cups of Pine Nuts

50 Grams of Mascarpone Cheese
Recipe
Prepare Pumpkin:
Preheat oven to 180°C. Boil kettle. Medium dice pumpkin into 1-2 cm pieces. Line in a baking tray with baking paper. Place the pumpkin on the tray and drizzle with olive oil. Toss to combine. Bake for 20 minutes or until tender.
Prepare Ingredients:
Boil kettle. Peel and mince the garlic. Thinly slice the mushrooms. Small dice ¾ of the onion you will have remainder. Mix concentrated vegetable stock in 2 cups of boiling water.
Toast Pine Nuts:
Place pine nuts in a large saucepan or pot over medium-low heat. Toast until fragrant and golden brown, stirring continuously, 1-2 minutes. Remove from pan.
Cook Mushrooms:
Add olive oil then increase heat to high. Add the mushrooms and cook, stirring, for 3 to 4 minutes or until lightly browned and tender. Transfer to a bowl.
Cook Rice:
Add more oil to the pan. When oil is shimmering, add onion and garlic. Cook, stirring, for 5 minutes or until onion softens. Add the rice and cook, stirring, for 2 minutes or until the grains of the rice appear glassy. Add the wine and cook, stirring constantly, for 1-2 minutes or until the wine has been absorbed. Add ½ cup of the stock to the rice mixture and stir constantly until the liquid is completely absorbed before adding more. Continue adding ½-cupfuls of stock for 20 minutes or until the rice is tender yet firm to the bite and risotto is creamy. Add extra water as required for rice to be cooked.
You Plate It:
Add the mushroom, roasted pumpkin, parmesan and half of both the spinach and pine nuts to the risotto. Stir to combine. Divide the risotto among serving bowls. Spoon over the mascarpone and sprinkle with remaining pine nuts and spinach. Enjoy!