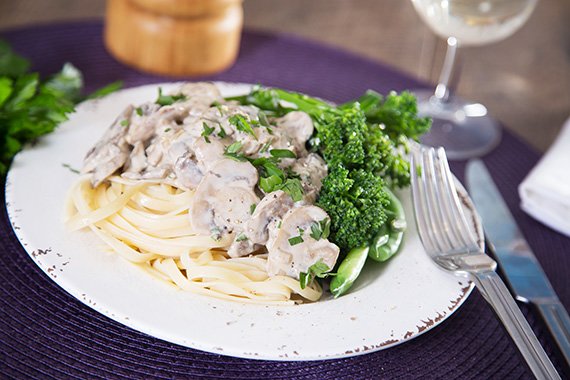 Mushroom Stroganoff with Tagliatelle Pasta, Beans & Broccolini
Prep time:

30

minutes

Calories: 509
Stroganoff has its origins in Russia but is a recipe loved the world over. It is traditionally a dish of sautéed beef, served in a sauce prepared with mustard, stock and sour cream. For this recipe, however, you will take a modern twist to the recipe and use local WA mushrooms instead of beef. The stroganoff is served in the typically Australian tradition over pasta. Share the moment #youplateit with us on Instagram and Facebook and enjoy!
Ingredients
1 Brown Onion

1 375 Gram Pack of Sliced Mushrooms

80 Grams of Mushroom Strog Base

0.5 Bunch of Broccolini

2 Teaspoons of Dijon Mustard

30 Grams of Butter (pantry)

0.3 Cups of Sour Cream

150 Grams of Green Beans

1 Small Bunch of Flatleaf Parsley

1 250 Gram Pack of Tagliatelle No.82

2 Garlic Clove
Recipe
Prepare Ingredients:
Small dice onion. Peel and mince the garlic. Heat a large pot of salted water to boil.
Start Stroganoff:
Heat the butter in a large pot (or frypan) over medium heat, add onion and mushroom. Cook, stirring, for 5 minutes or until soft. After 5 minutes, add garlic. Cook, stirring, for 1 minute. In a measuring cup, add mushroom strog base, Dijon mustard and ¼ cup water. Stir to combine. Add mixture to stroganoff, then bring to the boil for about 5 minutes or until sauce has thickened slightly. Turn off heat, then cover to keep warm.
Cook Green Beans:
In the meantime, trim the ends off the green beans and broccolini. Carefully add to the pot of boiling water. Cook 2 to 3 minutes, or until bright green and slightly tender. Reduce heat and remove from water with tongs. Bring pot of water back to a boil.
Cook Pasta:
Carefully add pasta and a pinch of salt to boiling water. Cook until al dente, about 5-6 minutes, or to your liking. Drain and set aside. Drizzle with olive oil if desired. Roughly chop the parsley leaves.
Finish Stroganoff:
Stir in sour cream and as much parsley as desired, reserving some for garnish.
You Plate It:
Divide the pasta, stroganoff, green beans and broccolini among plates. Sprinkle with remaining parsley. Enjoy!