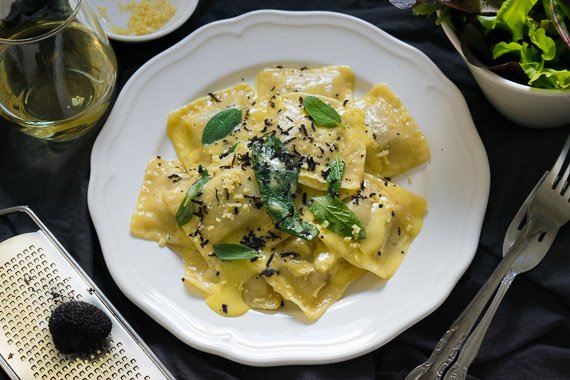 Mushroom & Truffle Ravioli with Fresh, Seasonal Black Truffles
Prep time:

20

minutes

Calories: 700
The black truffle season is in full swing and Manjimup growers the Truffle & Wine Co are busy producing the world's finest truffle. Many home cooks don't know what to do with this 'black gold', others are discouraged by its price. We prefer to use fresh local ingredients cooked simply in our mushroom and ravioli dish.
Note:
Truffle should be served using a fine microplane/grater or sliced with a special truffle shaver. Share your special black truffle plate on Facebook or Instagram #youplateit
Ingredients
2 of Garlic Clove

1 Small Bunch of Sage

30 g of Butter (pantry)

100 g of Thickened Cream

1 Tbsp of Parmesan (Shredded)

5 g of Truffle
Recipe
Prepare Ingredients:
Fill a large pot with about 1
1
⁄
2
litres of water and bring to a boil. Before the water boils, add salt and taste; you should be able to taste the saltiness. It if it's too bland add bit more salt.
Start Sauce:
Heat a large non-stick pan with high edges on medium. Add butter, sage and the crushed garlic with skin on (you will remove the garlic before adding the pasta). Gently fry ingredients in the foamy butter. (TIP: Be careful not to overcook, as the butter can burn easily.)
Add Cream:
Reduce heat, add the cream, then simmer gently for about 2 - 3 minutes until the sauce reaches a thicker consistency, season with salt and pepper.
Cook Pasta:
In the meantime, add pasta straight from the packet into the boiling water. Stir gently in the first minute avoiding any pasta from sticking to the bottom of the pot. Cook, for about 3 - 4 minutes, or until done to your liking. Drain thoroughly.
Finish Ravioli:
Remove garlic (and skin) from pasta sauce. Add pasta to the sauce and over gentle heat, add parmesan and stir through. Taste and season as required.
You Plate It:
Divide ravioli between plates. Grate over fresh truffle, using a fine microplane/grater or sliced with a special truffle shaver. Serve with mixed lettuce on the side. Enjoy!