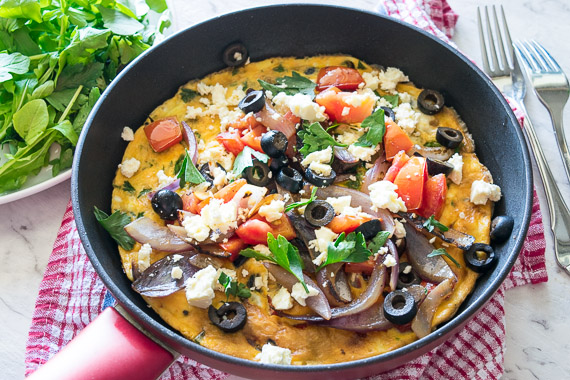 Next Level Greek Omelette Eggs Included
Prep time:

20

minutes

Calories: 371
This recipe is a quick and healthy dinner bursting with colour and flavours. High in protein and low in carbs, this Greek omelette is surprisingly easy to cook and is a recipe that you can easily make again or scale-up if you want to cook a batch for lunches. The olives, fetta and tomato are a delicious combination of Mediterranean flavours. Crack a nice bottle of Rioja and share what you made on Instagram #youplateit
Ingredients
5 Egg

1 Small Bunch of Flatleaf Parsley

1 Red Onion

3 Tomato

0.3 Cups of Black Olives (sliced)

70 Grams of Fetta Cheese

1 75 Gram Pack of Rocket & Baby Spinach
Recipe
Prepare Ingredients:
Wash the fresh produce. Cut the red onion into 1 cm wedges. Medium dice tomatoes, discard seeds and extra liquid using a paper towel. Roughly chop half the parsley, reserve remaining leaves; discard stems. Whisk the eggs in a large bowl with the chopped parsley, pepper and salt. Heat the grill to high.
Start Omelette:
Heat oil in a medium non-stick pan. Fry the onion wedges over high heat for about 4 minutes until they start to brown around the edges - stirring occasionally so they don't burn. Throw in the tomatoes and olives and cook for 1-2 minutes until the tomatoes begin to soften. Set aside half to use as topping.
Add Eggs:
Turn the heat down to medium and pour in the eggs. Cook the eggs in the pan. Stir them as they begin to set, until half cooked, but still runny in places – about 2 minutes.
Finish Omelette:
Scatter over the fetta, crumble as you add. Place the pan under the grill for about 5 minutes until the omelette is puffed up, golden and cooked through.
Prepare Salad:
Add rocket & baby spinach and remaining parsley leaves to a medium bowl. Drizzle lightly with good quality olive oil, toss to combine.
You Plate It:
Divide salad between plates. Scatter remaining topping over omelette then cut into wedges and serve straight from the pan. Enjoy!