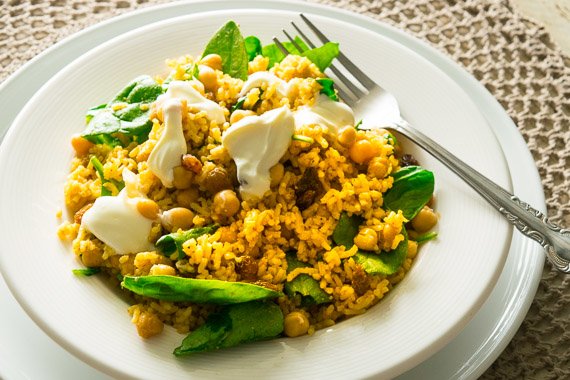 One Pan Spicy Rice, Topped with Greek Yoghurt
Prep time: 30
Calories: 380
This recipe is simple to prepare and tastes absolutely delicious. It has become a favourite among the You Plate It team, especially on those evenings when time is short. We love how the subtle sweetness of the raisins works with the earthy flavours of chickpeas and the aromatic hints of basmati. Be warned though, it's very moreish. Show us your #youplateit style.
Ingredients
2 Garlic Clove

2 Tablespoons of Madras Curry Paste

180 Grams of Basmati Rice

1.5 Tablespoons of Vege Stock Concentrate

1 400 Gram Pack of Chickpeas

40 Grams of Raisins

1 75 Gram Pack of Baby Spinach

40 Grams of Cashew Nut Pieces

100 Grams of Greek Yoghurt

70 Grams of Mushrooms

3 Tablespoons of Mango Chutney
Recipe
Cook Aromatics:
Drain and rise the chickpeas, set aside. Peel and thinly slice the garlic. Slice mushrooms. Heat 2 Tbs oil in a large non-stick pot that has a lid. Fry the garlic and mushrooms until soft, about 3-4 minutes. Add curry paste (use less if you prefer a milder curry flavour) and fry for 1 minute, until it smells toasty.
Add Ingredients:
Tip the rice into the pot with the stock concentrate and add 550 mls of water. Add ¾ of the chickpeas (you will have remainder) and raisins then mix with a fork to incorporate the stock and stop the rice from clumping. Taste and adjust seasoning as required, then cover with lid and bring to a boil.
Reduce & Simmer:
Once boiling, reduce to a low-medium heat and cook for 12-15 minutes stirring half way through. Cook until rice is tender. Add a little more water if it gets too dry or if rice cooked and still very wet, cook a further 1-2 minutes with lid off.
Add Spinach:
Add the spinach to the pot and fluff up the rice with a fork, making sure the spinach is mixed in well. Taste and add a pinch of salt if required.
You Plate It:
Toss in the cashews. Divide between bowls. Serve with dollops of Greek yoghurt and mango chutney. Enjoy!