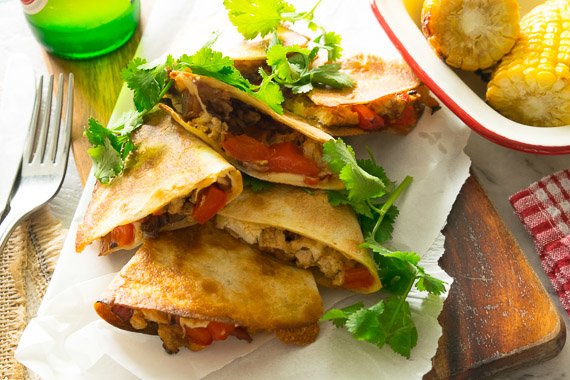 Oven Baked Chicken & Chorizo Quesadillas with Buttered Corn
Prep time:

30

minutes

Calories: 661
This quesadilla recipe will see you bake them in the oven; this means you can make multiple quesadillas at the same time! We discovered this way of cooking them and think it's ideal for families and busy nights when you just don't have the time to individually cook a quesadilla in a pan.
Ingredients
1 of Garlic Clove

1 of Red Capsicum (Small)

1 of Red Onion

1 of Red Chili

2 Tsp of Chicken Quesadilla Spice Mix

1 of Sweet Corn Cob

200 g of Chicken Mince

100 g of Tasty Cheese (grated)

1 Small Bunch of Coriander

1 Tbsp of Butter (pantry)
Recipe
Prepare Ingredients:
Preheat oven to
200°C
. Wash the fresh produce. Peel and mince
garlic
. Medium dice the
chorizo
. Medium dice the
capsicum
, discarding seeds. Small dice
3⁄4 of the onion
(you will have remainder). Small dice the
red chili
, discarding seeds. Wash hands immediately after cutting the chili.
Prepare Corn & Baking Tray:
Remove and discard the husks and silks of the
corn
. Cut
corn
in half or into 4 pieces. Slice
butter
. Cut aluminium foil large enough to hold the corn, top with butter then seal edges to form a parcel. Lightly spread olive oil on baking tray. Heat in oven while you assemble the
quesadillas. Add corn to the oven
, roast for about 20 minutes.
Prepare Quesadilla Filling:
Heat
oil
in a large pan over medium heat. Sauté
onion, capsicum
and
chorizo
for 2-3 minutes
.
Add
garlic, chili
(use to taste, depending on how much heat you prefer),
chicken mince
and
spice mix
. Taste and season with a big pinch of salt. Cook on a low heat stirring occasionally, about 5 minutes. Remove to a plate and
allow to cool slightly.
Prepare Quesadilla:
Once cooled, divide the
filling
between
4 tortillas
, covering half the surface. Top with
cheese
. Fold in half and press down gently but firmly. Carefully remove hot baking tray from the oven. Transfer quesadillas onto tray using a spatula (you should hear a soft sizzle).
Cook Quesadilla:
Bake for 4-6 minutes. Remove from oven and gently turn the quesadillas (over the folded edge) then press down with the spatula. Bake for a further 4-6 minutes or until the surface is crispy.
You Plate It:
Remove
quesadillas
from the oven. Cut into slices and serve with
corn
and
coriander
leaves. Enjoy!