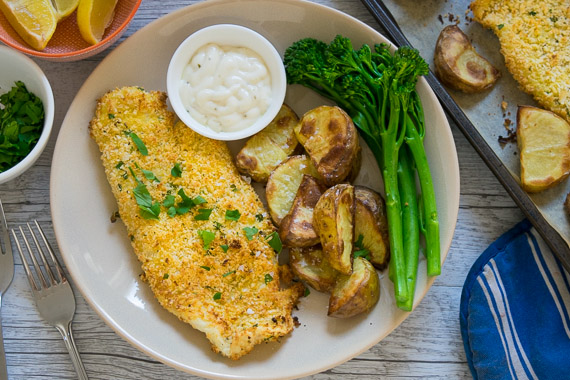 Oven Baked Fish and Chips with a Parmesan Crumb, Veg & Tartare Sauce
Prep time: 30
Calories: 630
Keep the kids or partner! entertained by inviting them into the kitchen to help make these delicious and nutritious crumbed fish with oven baked chips. Don't forget to read the instructions before you start cooking and share the moment #youplateit on Facebook or Instagram! Happy cooking :-
Ingredients
2 Potatoes (Select)

0.75 Cups of Panko Bread Crumbs

1 Lemon

1 Small Bunch of Flatleaf Parsley

3 Tablespoons of Parmesan Cheese

0.33 Cups of Plain Flour

2 Fish Fillets

0.33 Cups of Tartare Sauce (preferred)

1 Bunch of Broccolini

1 Egg (pantry)
Recipe
Roast Potatoes:
Preheat oven to 200°C. Line 2 baking trays with baking paper. Cut the potatoes in half then into 1-2 cm wedges. Place potato wedges on one of the prepared trays. Drizzle with oil. Sprinkle with salt. Add to the top shelf of the oven and bake for 30 minutes, Tip: Set timer for 10 minutes time to add the fish in step 3, flipping half way through, until crisp and golden.
Prepare Ingredients:
Zest the lemon, then quarter. Chop the parsley leaves, discarding stems. Whisk egg in a large bowl. Place flour in a large bowl or plate.
Crumb Fish:
Pat dry fish with a paper towel. Combine breadcrumbs, lemon zest, half the parsley and parmesan in a large bowl or plate. Season with salt and pepper. Dust fish with flour, dip in egg and coat in breadcrumb mixture. Place on the prepared tray and bake the fish along with the wedges for the last 20 minutes until the crumb is golden and fish is cooked through cooking time will vary depending on thickness of fillet.
Cook Broccolini:
With 5-10 minutes roasting time left, bring a pot of water and a pinch of salt to boil over high heat. When water is boiling, add broccolini and cook until bright green, about 2 minutes. Drain thoroughly.
You Plate It:
Divide fish, broccolini and wedges among plates. Serve with a dollop of tartare sauce. Enjoy!