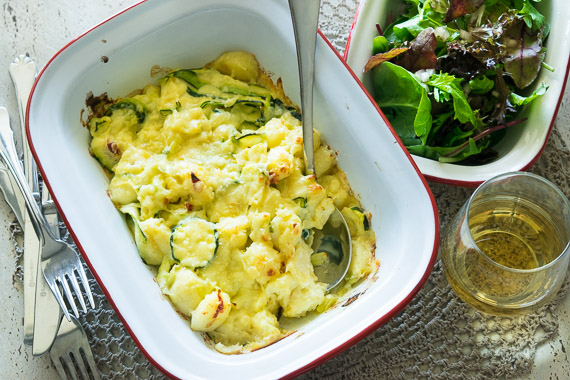 Oven Baked Fresh Gnocchi with Mascarpone & Mixed Side Salad
Prep time: 20
Calories: 498
For this recipe, you will use locally made fresh gnocchi. The team at iPastai specially prepares this traditional gnocchi so that it is light and fluffy. Baked together with zucchini, red chili and spring onion this recipe is quick to make and full of delicious flavours. We suggest a nice pinot noir to complement this dinner. #youplateit
Ingredients
1 350 Gram Pack of Fresh Gnocchi

1 Red Chili

1 Zucchini

2 Spring Onion

1 Lemon

3 Tablespoons of Mascarpone Cheese

50 Grams of Parmesan (Shaved)

1 75 Gram Pack of Mixed Lettuce

1 Shallot
Recipe
Prepare Ingredients:
Preheat oven to 200°C. Wash the fresh produce. Tip: if you can not remove all the traces of sand, peel the zucchini first. Cut zucchini into thin ribbons with a peeler or very thinly slice. Thinly slice the spring onions. Zest the lemon. Thinly slice the red chili, deseed if you prefer less heat. Wash hands immediately after cutting the chili.
Start Vegetables:
Heat oil in a large pan on medium heat. Add red chili to taste, depending on how much heat you like, spring onion and zucchini for 3 minutes until soft.
Finish Vegetables:
Add lemon zest, mascarpone, half the parmesan and ¼ cup water. Season to taste with salt and pepper. Gently mix until smooth. Add gnocchi and stir to heat through.
Bake Gnocchi:
Add to an ovenproof dish. Scatter with the remaining parmesan. Bake in the oven for 5-8 minutes until bubbling.
Make Vinaigrette:
Halve the lemon and juice into a small bowl. Peel and small dice the shallot to get 1-2 tablespoons; add to the bowl with the lemon juice. Season with salt and pepper to taste. Slowly whisk in 1-2 tablespoons of olive oil until well combined.
You Plate It:
Add mixed lettuce to a bowl, add as much vinaigrette as desired then mix to combine. Divide gnocchi bake between plates and serve with the dressed mixed leaves alongside. Enjoy!