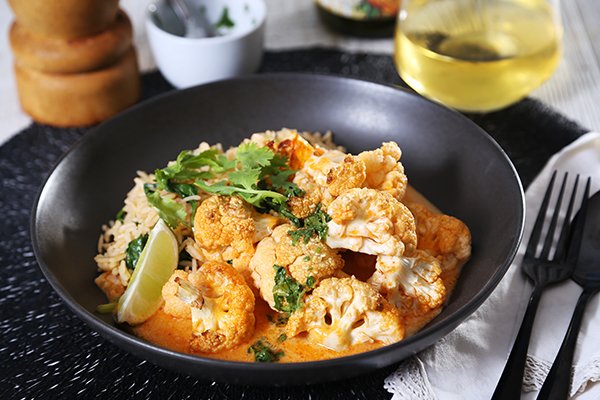 Oven Baked Tandoori Cauliflower with Garlic Infused Spinach Rice & Coriander Lime Sauce
Prep time:

35

minutes

Calories: 655
The word Tandoori comes from the type of cylindrical clay oven, a tandoor, traditionally used in the subcontinent for baking and braising. In this recipe you create an intricately flavoured dinner with coconut milk and spices like cumin, turmeric, coriander and nutmeg. Together with aromatic basmati rice, the flavours complement the cauliflower.
Ingredients
2⁄3 Cup of Basmati Rice

1 400g Pack of Coconut Milk

3 of Garlic Clove

1 75g Pack of Baby Spinach

1 of Lime

1⁄2 of Cauliflower

1 Small Bunch of Coriander

2 Tbsp of Honey

23 g of Tandoori Paste
Recipe
Prepare Ingredients:
Preheat the oven to
220°C
. Peel and mince the
garlic
. Cut the
lime
into 6 wedges. Pick
coriander
leaves; discarding stems. Cut and discard the
cauliflower
core; cut into bite-sized florets then place in an ovenproof baking dish.
Make Tandoori Sauce:
In a bowl or jug, whisk together
coconut milk
,
half the honey
,
half the garlic
,
all but 1 tsp of the tandoori paste
and the
juice of 2 lime wedges
(or to taste). Season with salt and pepper.
Braise Cauliflower:
Pour the
tandoori sauce
over the
cauliflower
; stir to coat. Bake in the oven for 20-25 minutes or until the
cauliflower
is tender and lightly browned. Remove from the oven.
Make Garlic-Spinach Rice:
Heat oil in a pot on medium until hot. Add the
remaining garlic
and
tandoori paste.
Cook 1-2 minutes or until fragrant. Add
rice
, a pinch of salt and
11⁄4 cups of water
. Bring to the boil.
Cover with a lid and reduce heat to simmer
for 15 minutes, until the liquid has been absorbed and
rice
is tender. Remove from heat and stir in the
spinach
(to taste).
Make Coriander-Lime Sauce:
Roughly chop the
coriander
leaves and place in a medium bowl. Add the
remaining honey
and the
juice from the remaining lime wedges
. Drizzle lightly with olive oil and stir to thoroughly combine. Season with salt and pepper to taste.
You Plate It:
Divide the
garlic-spinach rice
and braised
cauliflower
between bowls. Top with
remaining tandoori sauce
from the baking dish. Garnish with the
coriander-lime
sauce
. Enjoy!