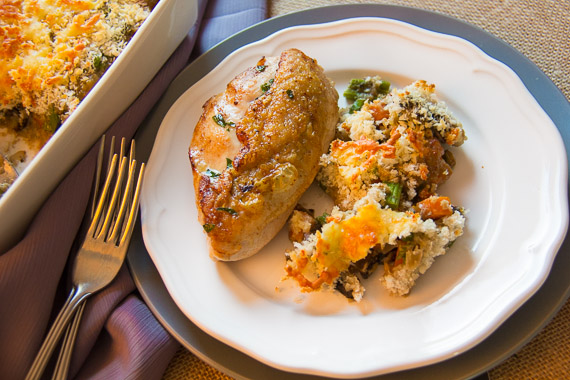 Oven Roasted Chicken with Tarragon Butter and Vegetable Gratin
Prep time:

35

minutes

Calories: 750
Gratin is a culinary technique where a dish is topped with a tasty crust of breadcrumbs and cheese. It comes from the French word 'grater', which means to scrape. The only thing better than the crust, is the delicious creamy sauce inside. In this recipe, the creaminess comes from the milk and parmesan that is mixed with a healthy serve of fresh vegetables. #youplateit and enjoy!
Ingredients
1 Small Bunch of Tarragon

1 Shallot

1 Brown Onion

1 Carrot

120 Grams of Mushrooms

1 Cups of Panko Bread Crumbs

60 Grams of Tasty Cheese (grated)

1 Bunch of Asparagus

2 Chicken Breast (skin on)

0.75 Cups of Sugar Snap Peas

1 Cups of Milk (Pantry)

2 Tablespoons of Butter (Pantry)
Recipe
Make Tarragon Butter:
Preheat oven to 200°C. Mince tarragon and shallot. Combine the tarragon, minced shallot and 1½ tablespoons of butter in a bowl. Season with salt and pepper and mix well.
Stuff Chicken:
Pat dry chicken with paper towel. Gently separate the skin from breast and place a tablespoon of tarragon butter underneath. Use your fingers to spread the butter under the skin. Season chicken with salt and pepper.
Prepare & Cook Vegetable:
Wash the fresh produce. Trim ends off the peas and cut in half. Small dice ½ the onion you will have remainder. Cut the woody ends off the asparagus, then cut into 2 cm pieces. Slice the mushrooms and carrots. Cook the diced onion in a large pan with ½ tablespoon butter over medium heat. When the onion is soft, add the carrots and mushrooms. Let cook for 3 minutes.
Make Sauce and Finish Vegetables:
Add the milk, and when the milk starts to bubble and gets thick, add half of the cheese. Finally, stir in asparagus and peas. Season with salt and pepper.
Assemble Gratin:
Place the vegetable mixture in an oven proof baking dish. Top with the remaining grated cheese and the bread crumbs. Bake in the oven until the top is golden brown and the sauce is bubbling, about 5-10 minutes.
Cook Chicken and You Plate It:
While gratin cooks, heat olive oil in a large pan over medium heat. Add the chicken, skin side down, and cook until golden brown, about 6-7 minutes. Turn and cook through on the second side, another 6-7 minutes. Serve chicken alongside your vegetable gratin. Enjoy!