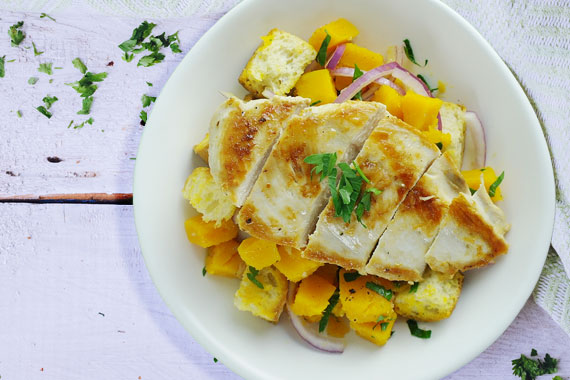 Pan Roasted Chicken with Butternut Pumpkin Panzanella
Prep time:

35

minutes

Calories: 770
This recipe will see a pan roasted free range chicken breast served on a bed of butternut panzanella. A panzanella is a traditional Italian salad made from old bread and tomatoes. We have made a seasonal adjustment to use the local butternut that is tasting perfect right now. Enjoy and share on Instagram #youplateit
Ingredients
2 Chicken Breast (skin on)

1 Shallot

1 Small Bunch of Flatleaf Parsley

1 Red Onion

0.5 Butternut Pumpkin

2 Ciabatta Roll

1 Tablespoons of Red Wine Vinegar
Recipe
Prepare Ingredients:
Preheat oven to 200°C. Wash the fresh produce. Pat dry chicken with paper towel. Peel shallot and thinly slice. Finely chop parsley leaves, discarding stems. Peel onion and thinly slice. Cut ciabatta into 2 cm cubes. Medium dice pumpkin into 1½ cm pieces, discarding skin.
Roast Butternut Pumpkin:
Line in a baking tray with baking paper. Place the pumpkin in a single layer on the tray and drizzle lightly with olive oil. Toss to combine. Bake for 15-20 minutes or until tender. Meanwhile, in a large bowl, whisk together shallot, red wine vinegar and 2 tablespoons olive oil to make a vinaigrette. Taste and add salt and pepper as needed.
Pan Roast Chicken:
Heat olive oil in a medium pan over medium heat. Season chicken on both sides with salt and pepper. When oil is shimmering, add chicken skin-side down and cook until skin is golden and easily lifts off pan, about 6 minutes.
Bake Croutons:
While chicken cooks, on a baking tray, toss ciabatta with olive oil, salt, and pepper. Arrange in a single layer and bake, about 8 minutes or until golden and crisp.
Finish Chicken:
Add sliced shallot. Flip and cook chicken until cooked through and no longer pink, about 5-6 minutes more. Remove chicken from pan and set aside.
You Plate It:
Add cooked shallot, parsley, onion, pumpkin, and croutons to the bowl with vinaigrette and toss to coat. Taste and add salt and pepper as needed. Cut chicken crosswise into 2½ cm slices. Divide panzanella and chicken evenly between plates. Enjoy!