Description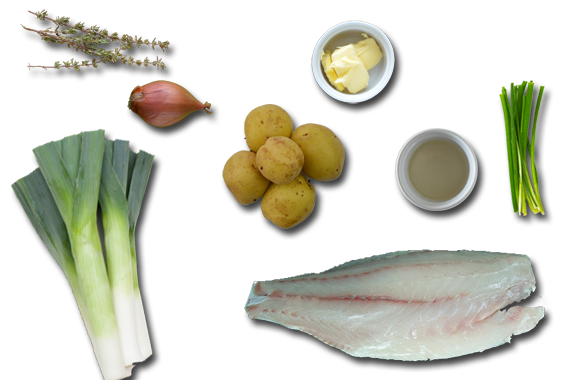 Ingredients
2 Leek
360 Grams Baby Potatoes
1 Shallot
5 Stalk Thyme
0.5 Small Bunch Chives
0.5 Cups White Wine
2 Fish Fillets
2 Teaspoons Butter (pantry)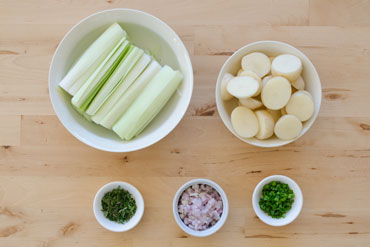 Prepare Ingredients:
Preheat oven to 220°C. Trim and discard roots and tops of leeks, leaving only white and light green parts. Quarter lengthwise. Place cut-side down in a bowl of cold water and allow dirt to sink to bottom. (Wash these well to ensure all the dirt is removed). Wash remaining fresh produce. Cut potatoes into 1 cm coins. Peel and mince shallot. Pick thyme leaves and finely chop, discarding stems. Thinly slice chives.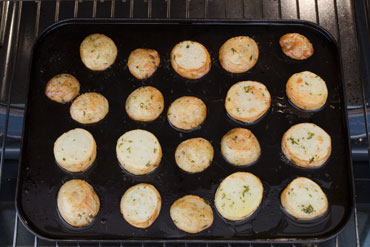 Roast Potatoes:
On a baking tray, toss potatoes with thyme, 1 tablespoon olive oil, salt, and pepper. Arrange in a single layer and roast until golden, about 17 minutes (or until tender when pierced with a fork), flipping halfway through.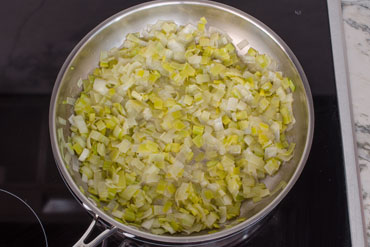 Melt Leeks:
Meanwhile, drain leeks and cut crosswise into ½ cm slices. Heat 1 teaspoon butter and 1 teaspoon olive oil in a medium pan over medium heat. When butter is foamy, add leeks and stir to coat. Add half of white wine and ½ cup water. Simmer until leeks are tender and liquid has almost evaporated, about 15 minutes. Taste and add salt and pepper as needed. Remove from pan and set aside.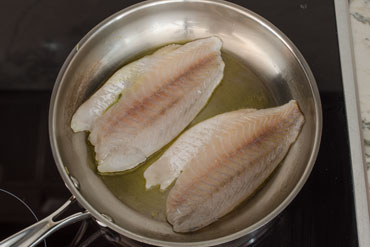 Pan Roast Fish:
Meanwhile, pat dry fish with paper towel. Season all over with salt and pepper. Wipe pan from leeks clean. Add 1 tablespoon olive oil and place over medium heat. When oil is shimmering, add fish and cook until browned on outside and cooked through, about 4 minutes per side. Remove from pan and set aside.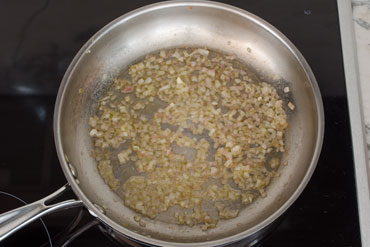 Prepare Pan Sauce:
Add shallot to pan from fish over medium heat. Cook until soft and translucent, 2 minutes. Add remaining white wine and cook until reduced by half, 1 minute. Add ¼ cup water and cook until liquid has thickened, 2 minutes. Stir in remaining butter, then remove pan from heat. Taste and add salt and pepper as needed.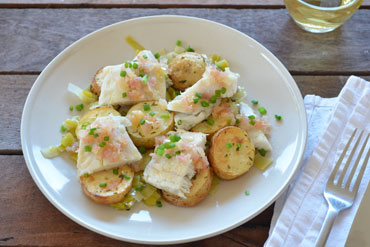 You Plate It:
Cut fish crosswise into 3-4 cm medallions. Divide leeks evenly between plates. Top with potatoes, then with fish. Spoon over pan sauce. Garnish with chives and serve. Enjoy!