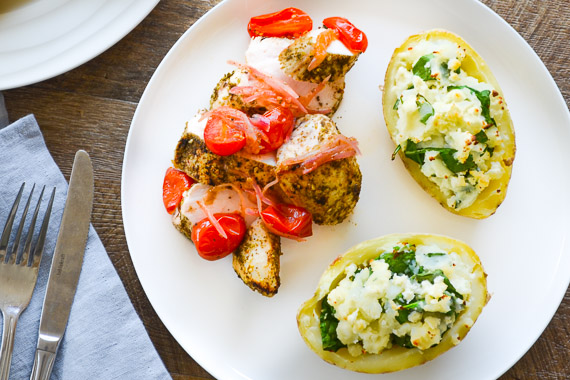 Pan Roasted Zaatar Chicken with Spinach & Fetta Twice-Baked Potatoes
Prep time: 35
Calories: 660
We love to make things fun in the kitchen! In this recipe you will use a French technique of baking potatoes together with fetta, spinach and garlic. To give things a delicious twist, our free-range chicken is spiced with a za'atar mix. Our version of this traditionally middle-eastern spice mix includes thyme and oregano that perfectly compliments chicken breast. Don't forget to share your cooking experience on Instagram #youplateit #nomorewhatsfordinner
Ingredients
2 Garlic Clove

2 Chicken Breast (skin on)

1 Cups of Grape Tomatoes

1 Lemon

1 Shallot

1 75 Gram Pack of Baby Spinach

2 Potatoes (Select)

60 Grams of Fetta Cheese

1 Tablespoons of Za'atar

50 Grams of White Wine

0.25 Cups of Milk (pantry)

1 Tablespoons of Butter (pantry)
Recipe
Prepare Ingredients:
Preheat oven to 200°C. Wash the fresh produce. Crumble fetta. Peel and mince garlic. Pat dry chicken with paper towel. Halve tomatoes. Halve lemon. Peel shallot and thinly slice. Pierce potatoes all over with a fork and microwave until tender, 8-10 minutes, turning halfway through Potatoes should be soft when cut in half. Microwave for longer if required. Set aside to cool, about 5 minutes.
Marinate Chicken:
In a large zip lock bag, combine chicken, tomatoes, juice of half the lemon you will have remainder, shallot, and 1 tablespoon olive oil. Seal and shake to coat. Set aside to marinate at room temperature for about 10 minutes.
Mash Potato:
While chicken marinates, halve potatoes lengthwise and carefully scoop out flesh, leaving a thin border all around. In a bowl, combine mashed potato, fetta, butter, milk, garlic, and as much spinach as desired. Using a potato masher or large fork, mash together until mostly smooth. Taste and add salt and pepper as needed.
Bake Potatoes:
Fill potato skins evenly with mashed potato and arrange in a single layer on a baking tray. Bake until warmed through, 12-15 minutes. Meanwhile, remove chicken from marinade, reserving tomatoes, shallot, and marinade. Season chicken with za'atar using as much or as little as desired, salt, and pepper on both sides.
Sear Chicken:
Place a large non-stick pan over medium-high heat. Immediately add chicken, skin side down; sear until golden, about 6 minutes. Flip and cook until cooked through, 6-7 minutes more. In the last 2 minutes of cooking, add the white wine, reserved tomatoes, shallot, and marinade to make a sauce.
You Plate It:
Divide chicken and potatoes evenly between plates. Top chicken with sauce from pan. Enjoy!