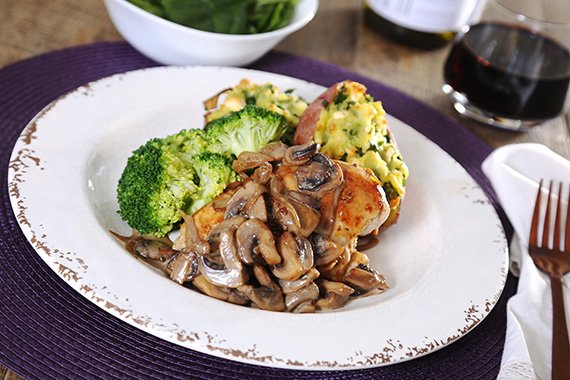 Pan Seared Chicken with Mushroom Sauce And Twice Baked Potatoes
Prep time:

30

minutes

Calories: 490
In this recipe you will use a method of baking potatoes that is called 'twice baked'. You wil use a
microwave
to speed up the cooking process and allows for the flesh to be mixed with other flavours. Served with some pan seared chicken and mushroom sauce, it's mid week dinner done right. Share the moment #youplateit with us on Instagram.
Ingredients
2 Red Potatoes

240 Grams of Mushrooms

1 Shallot

1 Small Bunch of Thyme

1 75 Gram Pack of Baby Spinach

2 Chicken Breast

1 Tablespoons of Sherry Wine

3 Tablespoons of Thickened Cream

3 Teaspoons of Butter (pantry)

0.5 Broccoli

40 Grams of Fetta Cheese
Recipe
Cook Potatoes:
Preheat oven to 200°C. Pierce potatoes all over with a fork and microwave until tender, about 8 minutes, turning halfway through (Potatoes should be soft when cut in half. Microwave for longer if required). Set aside to cool, about 5 minutes.
Prepare Ingredients:
While potatoes cook, wash the fresh produce. Cut mushrooms into quarters. Peel shallot, halve, and thinly slice. Cut broccoli into bite size florets. Pick thyme leaves, discarding stems. Pat dry chicken with paper towel. Place of pot of water on the stove and bring to the boil (for the broccoli in step 6).
Sear Chicken:
Heat 1 tsp butter and 1 tsp olive oil in a medium pan over medium heat. Season chicken on both sides with salt and pepper. When butter is foamy, add chicken and sear until browned on outside and cooked through, about 6 minutes per side. Remove from pan and set aside, reserving any butter in pan.
Bake Potatoes:
While chicken sears, halve potatoes lengthwise and carefully scoop out flesh, leaving a thin border. In a medium bowl, combine potato flesh, crumbled fetta and as much spinach (roughly chopped) as desired, and remaining butter. Season with salt and pepper. Fill potato skins evenly with potato mixture and arrange in a single layer on a lined baking tray. Bake until warmed through, 10 - 12 minutes.
Make Mushroom Sauce:
Add shallot to pan used for the chicken over medium heat. Cook until soft, about 3 minutes. Add mushrooms and thyme and cook until golden, about 5 minutes. Add sherry wine to deglaze, and cook until almost evaporated, about 30 seconds more. Reduce heat to low, add cream, and stir to combine. Simmer until warmed through, about 30 seconds - 1 minute. Season with salt and pepper and remove pan from heat.
You Plate It:
Add broccoli to boiling water and cook for 3 minutes until bright green (or to your liking). Drain well. Return chicken to pan with sauce and turn to coat. Divide chicken, potatoes and broccoli with any remaining spinach evenly between plates. Spoon mushroom sauce over chicken and serve. Enjoy!