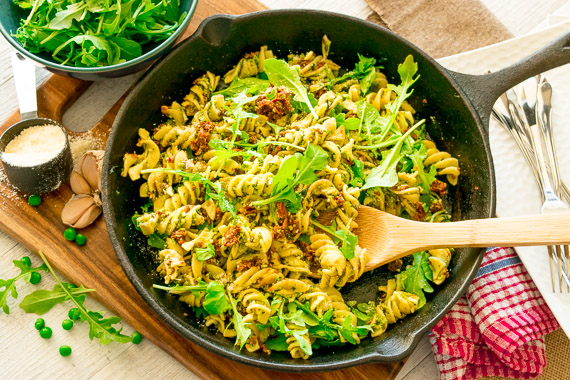 Pea & Basil Pesto Pasta with Pine Nuts, Parmesan, Sundried Tomatoes & Rocket
Prep time: 30
Calories: 515
We love pasta, but try always to make it a treat and not an easy fall back dinner. One of our favourite sauces is a tasty basil-based pea pesto that's easily made in a food processor. It's simple and delicious, but pesto is also perfect for warmer nights because no heat is needed - helping to keep your kitchen just a little bit cooler. #youplateit
Ingredients
80 Grams of Basil

1 Cups of Peas

6 Garlic Clove

0.25 Cups of Pine Nuts

1 Lemon

0.25 Cups of Parmesan Cheese

250 Grams of Fusilli Pasta

50 Grams of Sundried Tomatoes

1 75 Gram Pack of Rocket & Baby Spinach
Recipe
Boil Water:
Fill a large pot with 2 litres of salted water, and bring to a boil. Wash the fresh produce.
Prepare Pesto:
To a food processor or stick mixer, add basil leaves, peas, 4 garlic cloves, pine nuts, roughly 1½-2 Tablespoons lemon juice or to taste, parmesan, and a pinch of salt and pepper. Mix to combine. While the machine is running, stream in about ¼ cup olive oil. Continue blending, scraping down sides as needed, until creamy and fully combined. If it has trouble blending, add a bit more olive oil or water. Taste and adjust seasoning as required.
Cook Pasta:
Add pasta to the pot of boiling water and cook for about 10 minutes. Be sure not to overcook, and drain when 'al dente' and still have a slight bite to them. Return the cooked pasta to the pot off the heat and set aside.
Finish Pasta:
To the food processor, no need to clean add sundried tomatoes and remaining garlic. Chop until finely minced. Once your pasta is drained, heat a large high sided pan over medium heat. Once hot, add olive oil, garlic, and sundried tomatoes. Sauté for 1-2 minutes, or until the garlic is fragrant but not yet browned. Turn off heat and remove pan from burner, then add cooked pasta and toss to coat. Drizzle with extra olive oil as desired.
You Plate It:
Transfer to a serving platter or mixing bowl and add ¾ of the pea pesto and a few handfuls of the rocket & baby spinach. Toss to combine. Serve warm with additional pesto on the side or stir through the extra. Season to taste. Enjoy!