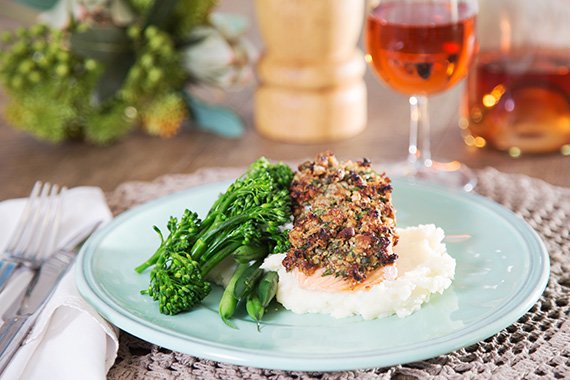 Pecan Crusted Salmon with Low Carb Mash & Greens
Prep time:

15

minutes

Calories: 420
Salmon is loaded with omega-3, which are important for the structure of the brain and for heart health. In this recipe you will give salmon a 'gourmet makeover' with a nutty crust and serve with a cauliflower and low carb potato mash and greens. A super healthy and nutritious to start your week! Enjoy!
Ingredients
2 of Salmon Fillets (Skinless)

1⁄2 of Cauliflower

35 g of Pecans

1 Small Bunch of Flatleaf Parsley

1 Tbsp of Dijon Honey Mustard

100 g of Green Beans

1⁄2 Bunch of Broccolini

1 of Low Carb Potatoes (Select)

1 Tbsp of Butter (pantry)
Recipe
Prepare Ingredients:
Preheat oven to 200°C. Peel potato and cut into 1
1
⁄
2
cm pieces. Cut cauliflower into florets. Pick parsley leaves, discarding stems and roughly chop. Trim ends off broccolini and green beans and cut in half. Finely chop pecans (or add to a food processor / stick mixer and process). Bring a pot of water to boil for blanching greens (in step 4).
Prepare Mash:
Place potato and cauliflower into a pot and cover with water. Cover, and once boiling, cook for 8-10 minutes or until the potato and cauliflower are tender. Drain and return to the pot. Add butter, season with salt and pepper and mash.
Crust & Bake Salmon:
In the meantime, line a tray with baking paper. Combine pecans and parsley in a shallow bowl. Pat salmon dry on paper towel and brush skin side of each salmon piece with honey mustard. Press mustard side of each salmon fillet into the pecan mixture to coat. Place crusted salmon on baking tray. Season with salt and pepper and cook for 8 minutes or until cooked to your liking.
Cook Greens:
Add green beans and broccolini to the pot of boiling water and cook for 2-3 minutes, until bright green. Drain and season with salt and pepper.
You Plate It:
Divide mash between plates. Top with salmon. Serve with beans and broccolini.