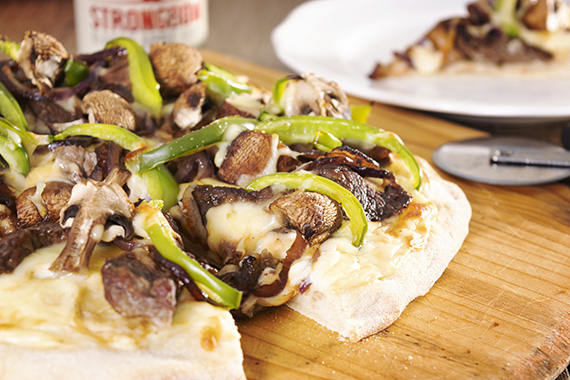 Philly Cheese Steak Pizza with Mushroom & Green Capsicum
Prep time: 20
Calories: 820
Why order pizza in, when you can make this beauty in your own kitchen and feel a sense of accomplishment in doing so? Traditionally served as a sandwich, we are sure you'll fall in love with this pizza version, and it will find a place in your households pizza rotation. Share your moment on Instagram #youplateit. Enjoy!
Ingredients
90 Grams of Mozzarella (Grated)

1 Pizza Base

1 Garlic Clove

30 Grams of Parmesan (Shredded)

1 Green Capsicum (small)

200 Grams of Rump Steak (Thick Cut)

1 Red Onion

1 Tablespoons of Butter (pantry)

1 Tablespoons of Plain Flour

0.5 Cups of Milk (pantry)

50 Grams of Mushrooms
Recipe
Make Sauce:
Preheat oven to 250°C. Peel and mince garlic. In a small pot, completely melt the butter on medium heat. Add the flour, whisking constantly, 1 to 2 minutes, or until golden. Slowly whisk in the milk. Bring the mixture to a simmer and cook, stirring frequently, 1 to 2 minutes or until thickened. Reduce the heat to low, slowly add the parmesan and cook, whisking constantly, 30 seconds to 1 minute, or until the sauce is smooth and lumps are removed. Remove from heat and season to taste with salt and pepper. Set aside to cool slightly.
Prepare Ingredients:
Wash the fresh produce. De-seed the capsicum and cut into ½ cm slices. Cut mushrooms into bite size pieces. Thinly slice half the red onion you will have remainder. Pat dry steak with paper towel and thinly slice into ½ cm strips.
Cook Steak & Onion:
Heat a pan over high heat, adding enough oil to cover the pan. Add steak strips and red onion. Sautè for 3 minutes, until meat is browned and onions are tender. Tip: Steak doesn't need to be completely cooked at this point.
Cook Pizza:
Place pizza on an oven tray and spread the garlic-cheese sauce over the base. Sprinkle ¾ of the mozzarella over the sauce and top with steak, onions, capsicum and mushrooms. Sprinkle over the remaining mozzarella. Cook for 10 to 12 minutes until the pizza base is browned and crisp, or done to your liking.
You Plate It:
Remove pizza from oven and season with salt and pepper. Slice as you wish and enjoy!