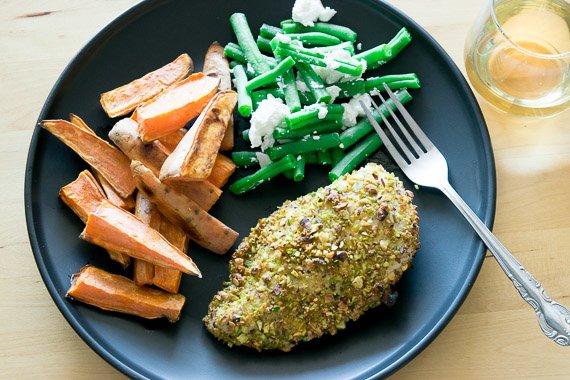 Pistachio Crusted Chicken with Sweet Potato Wedges, Beans, Asparagus & Fetta
Prep time:

30

minutes

Calories: 550
The pistachio is "technically" not a nut, but instead the fruit of the pistachio tree. In this recipe you will use pistachio to coat chicken breast. The coating will give a delightful texture to the chicken and the strong earthy flavours go well with fetta, green beans and asparagus.
Ingredients
2 of Chicken Breast

50 g of Pistachios

400 g of Sweet Potato (Small)

100 g of Green Beans

30 g of Fetta Cheese

100 g of Asparagus
Recipe
Prepare Ingredients:
Preheat oven to
200°C
. Trim ends off
green beans
and woody ends off
asparagus
. Cut
beans
and
asparagus
into 2-3 cm pieces. Cut
sweet potatoes
into 1
1
⁄
2
cm wedges, add to lined baking tray and drizzle with olive oil. Season with salt and pepper, add to the oven. Using a food processor (or knife), finely chop the pistachios then add to a plate or bowl.
Crumb Chicken:
While
chicken
is still in the vacuum sealed pack, use a meat mallet and pound to about 1 cm thickness. Remove from the pack, then pat dry the
chicken
with paper towel. Lightly coat
chicken
in olive oil and season with salt. Press
chicken
into the
pistachio crumb
until well coated on all sides.
Bake Chicken:
Remove roasting
sweet potatoes
from the oven and add the
crumbed chicken
to the baking tray (or spread over 2 lined baking trays if required). Place back into the oven and cook until the
chicken
is no longer pink and the
pistachio
coating is golden brown, about 15-18 minutes (or until cooked to your liking). Heat a pot of water to a boil for step 4.
Blanche Beans & Asparagus:
Add
beans
and
asparagus
and a generous pinch of salt to the pot of boiling water. Cook until bright green, about 2 minutes, drain, then add to a bowl.
Crumble Fetta Over Beans:
Crumble the
fetta
over the
beans
and
asparagus
.
You Plate It:
Divide the roasted
sweet potatoes
,
green beans, asparagus
and
fetta
alongside the
pistachio crusted chicken
. Enjoy!