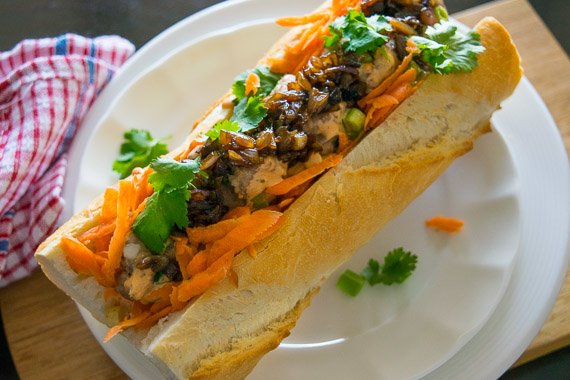 Pork Banh Mi with Sriracha Mayo and Shallot Jam
Prep time:

35

minutes

Calories: 750
Banh mi is a Vietnamese term that can describe any type of bread but it is synonymous with baguettes. French inspired, they are commonly filled with fresh herbs and vegetables, spicy sauces, pate and meat such as chicken or pork. Share the moment #youplateit on Instagram or Facebook.
Ingredients
120 Grams of Shallot

1 Garlic Clove

2 Spring Onion

1 Small Bunch of Coriander

300 Grams of Pork Mince

4 Tablespoons of Sriracha Mayonnaise

1 Tablespoons of Balsamic Vinegar

2 Vietnamese Baguette

1 Carrot

1 3 Gram Pack of Sugar
Recipe
Prepare Ingredients:
Preheat oven to 200°C. Wash the fresh produce. Peel and mince shallots and garlic. Trim and discard roots of the spring onion then thinly slice. Pick coriander leaves, discarding stems. Grate the carrot. Pat pork dry with paper towel.
Roll Meatballs:
In a large bowl, add half the spring onion, garlic, and pork. Season with salt and pepper. Using your hands, mix until fully combined. Form mixture into 10-12 balls and arrange in a single layer on a lined baking tray.
Bake Meatballs:
Bake meatballs, about 7 minutes or until cooked through. Leave oven on for step 5. Meanwhile, in a medium bowl, stir together remaining spring onion, and sriracha mayonnaise. Taste and add salt and pepper if needed. Set aside.
Make Shallot Jam:
While meatballs bake, heat vegetable oil in a medium pan over medium-high heat. When oil is shimmering, add shallot and cook until soft, 3-4 minutes. In a small bowl or container, combine balsamic vinegar, sugar and 1 Tbs water, stirring until well combined. Add to shallots. Cook until liquid has reduced and shallots are browned, about 1 minute more.
Warm Baguettes:
Cut baguettes in half lengthwise, taking care not to cut through. Wrap baguettes in foil and place in oven to warm through, about 5 minutes.
You Plate It:
Spread sriracha mayo inside baguettes. Add grated carrots, meatballs, then top with shallot jam, and scatter over coriander. Enjoy!