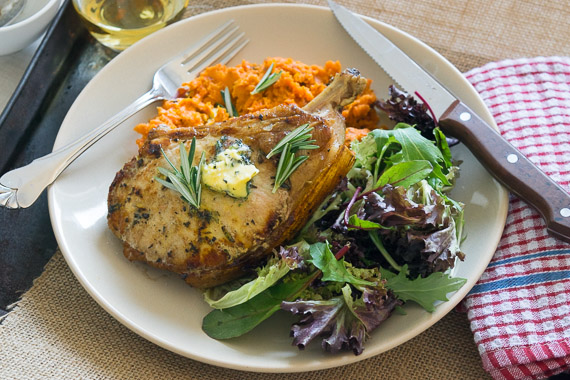 Pork Chops with Rosemary & Garlic Butter & Sweet Potato Mash
Prep time: 30
Calories: 680
WA pork chops are always a favourite when they are on the menu. Today, you will cook your pork in rosemary and garlic butter, then when it's juicy and tender, you will serve with a simple and healthy sweet potato mash. Don't forget to share the moment #youplateit on Facebook or Instagram!
Ingredients
1 Stalk of Rosemary

1 Garlic Clove

2 Pork Rib Chop

800 Grams of Sweet Potato (small)

1 75 Gram Pack of Mixed Lettuce

3 Tablespoons of Butter (pantry)

1 Tablespoons of Milk (pantry)
Recipe
Boil Sweet Potatoes:
Remove butter from fridge. Preheat oven to 220°C. Peel sweet potato and cut into 1 cm dice. Place in a large pot, cover with water, and season generously with salt. Place over high heat and boil until tender, 12-15 minutes or until tender when pierced with a fork. Drain and set aside for step 4.
Prepare Rosemary & Garlic Butter:
Wash the fresh produce. Finely chop the rosemary leaves. Mince garlic. In a medium bowl, combine chopped rosemary, minced garlic and butter.
Roast Pork:
Pat dry pork with paper towel. Season pork with salt on both sides then spread over rosemary butter, reserve about 1 teaspoon. Heat a large ovenproof pan over medium-high heat. When oil is just smoking, add the pork, buttered side down. Cook until just browned, 2 minutes per side. Then transfer to the oven and roast until well browned on the outside and slightly pink inside, about 4 minutes. Remove from pan and allow to rest for 5 minutes.
Mash Sweet Potatoes:
Transfer sweet potato to a large bowl. Add reserved rosemary butter and milk. Mash until smooth. Season to taste.
You Plate It:
Divide sweet potato mash evenly between plates. Top with pork. Serve mixed salad alongside. Enjoy!