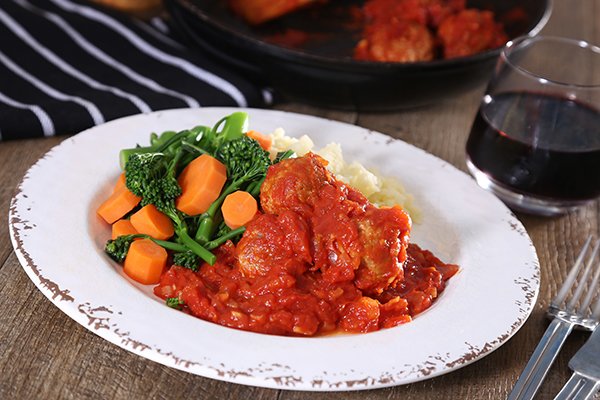 Pork Chorizo Flavoured Meatballs in Tomato Sauce, Veg & Dutch Cream Potato Mash
Prep time:

40

minutes

Calories: 670
Created in Spain after the conquistadors returned from the New World with red peppers, chorizo is made using pork mince and other spices, predominantly paprika. It is renowned as one of the most delicious sausages in the world. We're using the bold flavours found in chorizo to give this easy meatball recipe a distinct flavour kick.
Ingredients
2 of Garlic Clove

1 of Brown Onion

300 g of Pork Mince

1 Tbsp of Smoked Paprika, Cumin, Chipotle & Oregano

3 of Dutch Cream Potatoes

1 400g Pack of Diced Tomatoes

1 Bunch of Broccolini

1 of Carrot

1 Tbsp of Butter (pantry)
Recipe
Prepare Meatballs:
Preheat oven to
200°C
. Peel and mince
garlic
. Small dice
3⁄4 of the onion
(you will have some left over). In a bowl, combine
pork mince
,
1⁄3 of the diced onion, 1⁄2 the garlic, spice mix
and
1
⁄
2
Tsp salt
. Mix well to combine. Roll mixture into
6 evenly sized 3cm meatballs
and place on a lined baking tray. Bake until golden brown - about 20 minutes.
Prepare Sauce:
Heat
oil
in a frypan (or pot) on low to medium heat. Add the
remaining onion
and
garlic
. Cook for about 5 minutes or until softened, stirring occasionally. Add the
diced tomatoes
, season and increase the heat to medium. Cook 8-10 minutes, or until slightly thickened, stirring occasionally. Taste sauce and add
salt
and
pepper
as needed.
Prepare Mash:
Peel
potatoes
and cut into 2 cm chunks. Cover with water in a pot and bring to boil with a pinch of
salt
. Cook until tender, about 8-10 minutes. Drain, add
butter
and mash until smooth. Taste and season as required. Cover with lid to keep warm. Put a pot of
salted water
on to boil for cooking the
veg
in step 5.
Add Meatballs to Sauce:
Once
meatballs
are cooked, add to the
sauce
in the frypan (or pot) and heat through. Check seasoning and adjust if necessary.
Prepare Carrot & Broccolini:
Cut the
carrot
into 2 mm thick coins. Trim the ends off the
broccolini
and discard. Cut
broccolini
in half, leaving the florets intact. Add the
carrot
and
broccolini
to the pot of boiling water. Cook for about 2-3 minutes or until cooked as desired, then drain and keep warm.
You Plate It:
Divide
sauce
,
meatballs
,
carrots
,
broccolini
and
mash
evenly between plates. Enjoy!