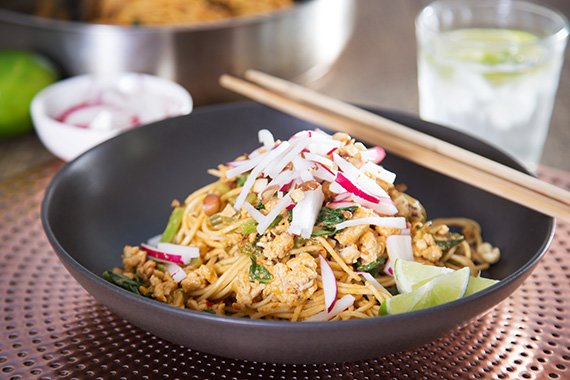 Pork Dan Dan Noodles with Radish & Garlic-Lime Peanuts
Prep time:

30

minutes

Calories: 700
This recipe is inspired by one of the most famous street foods from the Sichuan region of China. Its unique name refers to the bamboo poles that vendors used to carry this enticing recipe through the streets. Your home-cooked version will create the flavours of this delicious and fast street-food with a spicy sauce, fresh local radish and chewy noodles. Don't forget to share your food pics with us on Instagram #youplateit.
Ingredients
240 Grams of Pork Mince

180 Grams of Egg Noodles

2 Garlic Clove

2 Spring Onion

1 Lime

2 Radish

2 Tablespoons of Doubanjiang Paste (spicy)

2 Tablespoons of Peanut Butter

2 5 Gram Pack of Soy Sauce

1 Tablespoons of Peanuts (chopped)

1 Tablespoons of Pork Dan Dan Spice Mix

0.33 Bunch of Choy Sum
Recipe
Prepare Ingredients:
Wash the fresh produce. Heat a medium pot of salted water to boiling on high. Peel and mince the garlic. Thinly slice spring onions, separating the white bottoms and green tops. Roughly chop choy sum leaves and thinly slice stems (discarding ends) keeping separate. Zest the lime; cut into 6 wedges. Cut the radish into matchsticks. In a medium bowl, whisk together the peanut butter, soy sauce, ¼ cup of water and as much of the doubanjiang paste (it's spicy) as you'd like, depending on how spicy you'd like the dish to be.
Make Garlic-Lime Peanuts:
In a medium-large pan, heat oil on medium until hot. Add half the garlic. Cook, stirring frequently, 30 seconds - 1 minute, or until golden brown. Reduce the heat to low and add the peanuts. Cook, stirring frequently for 30 seconds or until the peanuts are thoroughly coated. Add the lime zest; season with salt and pepper. Cook, stirring frequently, 30 seconds - 1 minute, or until fragrant. Transfer to a paper towel-lined plate and set aside. Wipe out the pan.
Cook Pork:
In the same pan, heat oil on medium-high until hot. Add the pork mince and season with salt and pepper. Cook, frequently breaking the meat apart with a spoon, 3 - 4 minutes, or until lightly browned. Drain off and discard the drippings. Transfer the cooked pork to a bowl and set aside, leaving any browned bits in the pan.
Make Sauce:
Add oil to the same pan on medium-high until hot. Add the white bottoms of the spring onions, choy sum stems, remaining garlic and the spice mix. Cook, stirring frequently, 1 - 2 minutes, or until slightly softened and fragrant. Add the peanut butter mixture, the juice of 2 lime wedges and ¾ cup of water; stir to thoroughly combine. Remove from heat.
Cook Noodles:
Add the noodles to the pot of boiling water. Cook 2 - 3 minutes, or until tender. Drain thoroughly and rinse under warm water to prevent the noodles from sticking together.
You Plate It:
Add the cooked pork, noodles and choy sum leaves to the pan of sauce. Cook on medium-high, stirring occasionally, 2 - 3 minutes, or until thoroughly combined and heated through. Divide the pork and noodles between dishes. Garnish with radish, green tops of the spring onions, garlic-lime peanuts and remaining lime wedges. Enjoy!