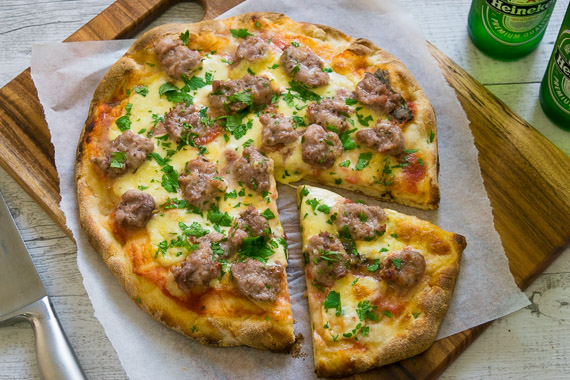 Pork & Fennel Sausage Pizza Inspired by The Golden Greek - Theo Kalogeracos
Prep time: 25
Calories: 772
For pizza lovers, it doesn't get any better than this! The combination of buffalo mozarella, pork and fennel sausage on a hearty thick crust - It's the ultimate cravings buster! We bring you a favourite from the very popular Theo & Co Pizzeria - find them in Leederville or East Vic Park! We're also featuring pork and fennel sausage from P. Princi who supply quality Italian smallgood produce across the country using high quality, 100% Australian Pork.
Ingredients
1 50 Gram Pack of Pizza Tomato Paste

1 125 Gram Pack of Buffalo Mozzarella

180 Grams of Pork & Fennel Sausage

1 Small Bunch of Flatleaf Parsley

1 Pizza Base
Recipe
Preheat Oven:
Preheat oven to 250°C until nice and hot. Roughly chop the parsley. Using your hands, roll the pork and fennel sausage into even size meatballs, about the size of a 20 cent coin. Pinch the pieces of sausage by flattening between your thumb and forefinger. Place on a lined baking tray and cook in the oven for about 5 minutes.
Prepare Pizza
In the meantime, place the pizza base on a lined baking tray. Add the sauce to the base, spreading evenly and going close to, but not quite to the edge.
Add Mozzarella:
Tear the mozzarella by hand; add to pizza, spreading evenly.
Add Sausage & Cook Pizza:
Once the sausage is cooked; add to the pizza, spreading evenly. Add the pizza to the oven, cook for 10 to 12 minutes until the pizza base is browned and crisp or done to your liking.
You Plate It:
When the pizza is cooked, remove from oven. Sprinkle with chopped parsley and serve hot. Enjoy!