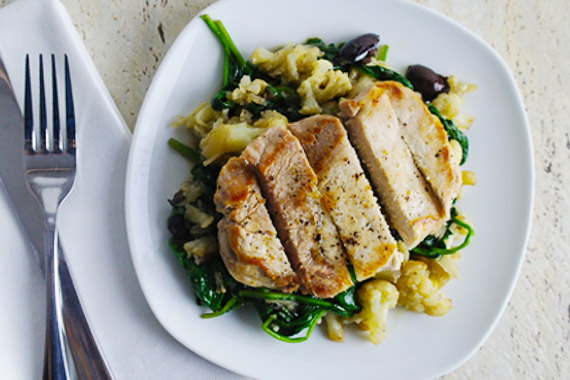 Pork Loin Steaks with Cauliflower, Olives, and Spinach
Prep time: 30
Calories: 500
Pork loin is a delicate cut taken from the flesh along the top of the rib cage. The pork you will use today is free range and locally grown. We think any excuse to cook pork loin is a good excuse, but in this recipe you get to enjoy it with sautèed Manjimup cauliflower - not to mention the kalamata olives. Don't forget to share the moment you plate it #youplateit
Ingredients
0.5 Cauliflower

0.25 Cups of Kalamata Olives (pitted)

1 200 Gram Pack of Baby Spinach

2 Pork Loin Steaks

1 30 Gram Pack of Concentrated Chicken Stock

1 Tablespoons of Butter (pantry)
Recipe
Prepare Ingredients:
Wash the fresh produce. Cut cauliflower into 1-2 cm florets. Halve olives. While still in the pack, smash the pork lightly with a rolling pin to 1 cm thickness. Pat dry pork with paper towel. Season pork on both sides with salt and pepper.
Sauté Cauliflower:
Heat olive oil in a large pan or pot over medium-high heat. When oil is shimmering, add cauliflower and season with salt and pepper. Cook without moving until golden brown on the bottom, about 4 minutes.
Braise Cauliflower:
Flip cauliflower. Add olives, about ½ cup water, concentrated chicken stock and stir to combine. Cover and braise until cauliflower is tender, 4-6 minutes.
Cook Pork:
While cauliflower braises, heat olive oil in a medium pan over medium heat. When oil is shimmering, add pork and cook until golden outside and cooked through, about 3-4 minutes per side. If you have a thermometer the centre temperature should be 62-65°C.
Season Cauliflower:
When cauliflower is tender, uncover pan and add spinach and butter. Cook, stirring, until spinach is wilted, about 2 minutes. Taste and add salt and pepper as needed.
You Plate It:
Cut pork against the grain into 1 cm slices. Divide pork and vegetables evenly between plates. Enjoy!