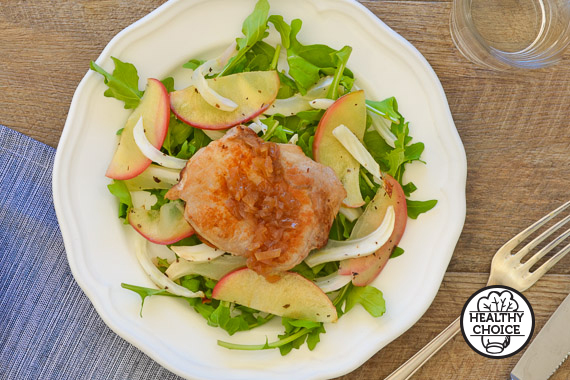 Pork Steaks with Gravy and Roasted Fennel Apple Salad
Prep time: 30
Calories: 630
With a distinct anise, or liquorice flavour, tarragon is a herb common in French cooking. In this recipe you will use tried tarragon to accompany the roasted apple and fennel. Cooking tip: Adding a little acidic liquid, like apple cider vinegar, to the sautéed shallot will pick up the browned and concentrated flavour bits from the pork. This technique is called deglazing and is the perfect start to a sauce. Happy cooking!
Ingredients
1 Red Apple

1 Fennel with Fronds

1 120 Gram Pack of Rocket

1 Shallot

2 Pork Leg Steaks

1 Teaspoons of Dried Tarragon

100 Grams of Apple Juice

2 Tablespoons of Apple Cider Vinegar

1 Teaspoons of Dijon Mustard
Recipe
Prepare Ingredients:
Preheat oven to 200°C. Wash the fresh produce. Halve apple, remove and discard core then thinly slice. Halve fennel, remove and discard core then thinly slice. Peel and small dice shallot. Pat dry pork with paper towel.
Roast Apple and Fennel:
On a lined baking tray, toss apple and fennel with olive oil, dried tarragon, salt, and pepper. Arrange in a single layer and roast until tender, about 15 minutes.
Cook Pork:
While apple and fennel roast, season pork on both sides with salt and pepper. Heat olive oil in a medium pan over medium-high heat. When oil is shimmering, add pork and cook until browned on outside and cooked through, 3-5 minutes per side. Remove, reserving any drippings in pan, and set aside to rest for 5 minutes.
Make Gravy:
Using the same pan, add shallot over medium-high heat and cook until translucent, 1-2 minutes. Add apple juice and half the apple cider vinegar. Scrape up any brown bits from the bottom of the pan. Cook until liquid has reduced by half, about 5 minutes. Remove pan from heat. Taste gravy and add salt and pepper as needed.
Make Salad:
While pork and gravy cook, in a large bowl, whisk together mustard, remaining apple cider vinegar, and 1½ tablespoons olive oil. Taste and add salt and pepper as needed. Add apple, fennel, and rocket. Toss to combine.
You Plate It:
Divide salad evenly between plates. Top with pork and spoon over gravy. Enjoy!