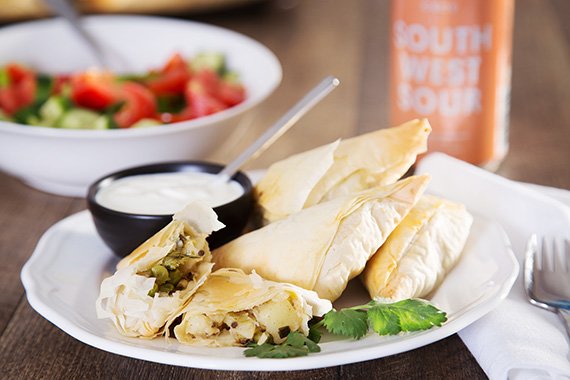 Potato & Pea Filo Samosa with Salad and Yoghurt
Prep time: 45
Calories: 410
In this recipe you will use filo pastry to make parcels of deliciousness. Soft, spiced potato and pea surrounded by flaky, crunchy pastry. You need to use light fingers with this pastry - it takes a little longer, but the result is worth it! This is a great recipe to get the whole family involved in. Share your plate on Instagram #youplateit.
Ingredients
400 Grams of Red Potatoes

2 Spring Onion

1 Garlic Clove

2 Teaspoons of Samosa Spice Mix

1 Lemon

3 Tablespoons of Butter (pantry)

50 Grams of Peas

170 Grams of Filo Pastry

1 Small Bunch of Coriander

0.5 Teaspoons of Black Mustard Seeds

2 Tomato (small)

50 Grams of Greek Yoghurt

1 Lebanese Cucumber
Recipe
Cook Potatoes:
Preheat oven to 200°C. Wash potatoes, peel and cut into 1 - 2 cm dice. Place potatoes in a pot, cover with water and bring to the boil. Cook for 8-10 minutes, until tender. Drain and lightly smoosh any larger pieces.
Prepare Ingredients:
Wash the fresh produce. Peel and mince garlic. Finely slice spring onion, separating the white and green parts. Pick coriander leaves and roughly chop, discarding stems.
Make Filling:
Heat a high-sided pan with oil over medium-high heat. Add mustard seeds and fry for about 30 seconds, until they begin to pop. Add garlic and white part of spring onion, cook for 2 minutes. Add in potatoes, peas, spice mix, juice of ½ a lemon, and coriander, reserving some for garnish. Cook for 1 - 2 minutes. Season with salt and pepper.
Prepare Pastry:
Melt the butter in a microwave in 10 second intervals. Carefully unroll the filo pastry. Cover with some damp sheets of paper towel to stop it drying out. Working on a clean, flat work surface, take a sheet of pastry and carefully brush with some melted butter. Repeat with 2 more sheets of pastry, so you have 3 layers.
Make Samosa:
Cut the sheets into 3 strips lengthwise. Place a spoonful of filling (about 2 TBS) at one end of one strip (you will make 9 samosa). Take the right corner and fold diagonally to the left, enclosing the filling and forming a triangle. Fold again along the upper crease of the triangle. Keep folding this way until you reach the end of the strip. Seal with some more melted butter. Brush the outer surface with more butter. Place on a lined baking tray. Repeat the process. Place in oven and cook for 15 - 20 minutes.
You Plate It:
While the samosa are cooking, make the salad. Dice cucumber and tomato. Combine tomato and cucumber with green parts of the spring onion. Dress with squeeze of lemon juice, season with salt and pepper and toss. Serve samosa with yoghurt and salad. Garnish with remaining corriander. Enjoy!