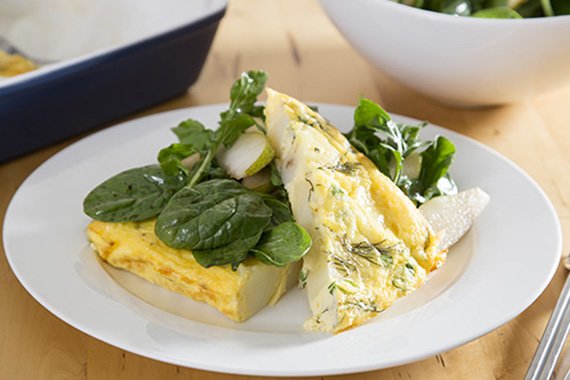 Potato, Spring Onion & Dill Frittata, with Rocket and Pear salad
Prep time:

25

minutes

Calories: 550
Potato and dill are such a great combination! Add in the aged cheddar for a bit of extra bite and the creamy egg and cheese "royale" and you have a delicious, light and protein packed meal. Served with a crunchy salad, it is the perfect, relaxed finish for a summer day.
Ingredients
3 Free Range Eggs

1 Spring Onion

1 Small Bunch of Dill

40 Grams of Vintage Cheddar Cheese

1 75 Gram Pack of Rocket & Baby Spinach

1 Pear

2 Tablespoons of Balsamic Dressing

100 Grams of Thickened Cream

300 Grams of Chat Potatoes

80 Grams of Snow Peas
Recipe
Cook Potatoes:
Preheat oven to 160°C. Wash the fresh produce. Cut potatoes into 2 cm dice, place into pot, cover with water and bring to the boil. Cook for about 8-10 minutes, until just tender.
Combine Ingredients:
In a small bowl/jug mix eggs and cream and season with salt and pepper, ensuring thoroughly combined - this makes a "royale". Once potatoes are tender, drain off all water. Line an oven proof dish with baking paper and spread potatoes in a single layer over the base. Slice spring onions and grate vintage cheese on top of the potatoes.
Cook Frittata:
Season potatoes with salt and pepper. Pour over the royale (egg mix) and top with roughly picked dill. (Tip: dill can be strong flavour, use as much or as little as desired. Reserve some dill for garnish.) Cook in oven for 25-30 minutes or until set (firm).
Prepare Salad:
With 5 minutes remaining, add Rocket & Baby Spinach to a medium-large bowl. De-string snow peas and cut in half on an angle. Thinly slice pear and toss through the leaves with snow peas. Dress with as much balsamic dressing as desired.
You Plate It:
Cut frittata into desired portion size and serve with the salad on the side. Garnish with remaining dill to taste. Enjoy!