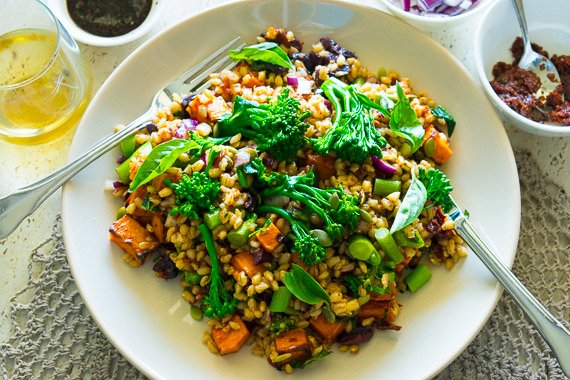 Pumpkin & Barley Salad with Balsamic Vinaigrette
Prep time:

35

minutes

Calories: 310
Barley is one of the oldest grains on earth. There is archaeological evidence to show it was being milled 11,000 years ago! Rich in phytochemicals, fibre and minerals; barley has proven health benefits in helping to regulate blood sugar and assist with cholesterol absorption. Be sure to read the entire recipe before you start - it really helps. Share your dinner on Instagram #youplateit
Ingredients
0.75 Cups of Pearl Barley

0.5 Butternut Pumpkin (small)

1 Small Bunch of Basil

100 Grams of Sundried Tomatoes

1 Red Onion

1.5 Tablespoons of Balsamic Vinegar

1 Garlic Clove

1 Bunch of Broccolini

1.5 Tablespoons of Pepitas

1.5 Tablespoons of Baby Capers

60 Grams of Kalamata Olives (pitted)
Recipe
Cook Barley:
Preheat oven to 200°C. Rinse barley. Add 2⅓ cups of water to a medium pot, boil over high heat. When water is boiling, add barley and a generous pinch salt. Reduce heat to simmer, cover with a lid until tender and almost all the water has been absorbed, about 25-30 minutes. Drain, cover to keep warm, and set aside.
Roast Pumpkin:
While barley cooks, using a spoon, scrape out and discard the seeds of the pumpkin. Carefully remove skin with a sharp knife. Cut into 1½ cm pieces. Place on a lined baking tray, drizzle with olive oil. Arrange in a single layer and roast until tender, about 15 minutes. Wash the fresh produce.
Cook Broccolini:
Bring a medium pot of water and a pinch of salt to boil over high heat. When water is boiling, add broccolini and cook until bright green, about 2 minutes. Remove from water with tongs and allow to cool slightly, 2-3 minutes. Cut stems into 1-2 cm pieces.
Prepare Ingredients & Dressing:
Roughly chop basil and sundried tomatoes. Medium dice ¼ of the red onion (you will have remainder). Add to a large mixing bowl. Peel and mince garlic. Whisk the balsamic vinegar, 1½ Tablespoons olive oil, and minced garlic in a small bowl, then season with salt and pepper. When the barley is cooked, drain then add to the bowl. Pour over as much of the dressing as desired. Mix well.
You Plate It:
Roughly chop Kalamata olives. Add the broccolini, chopped olives and remaining ingredients to the bowl and mix well. Season with salt and pepper to taste. Divide between plates. Enjoy!