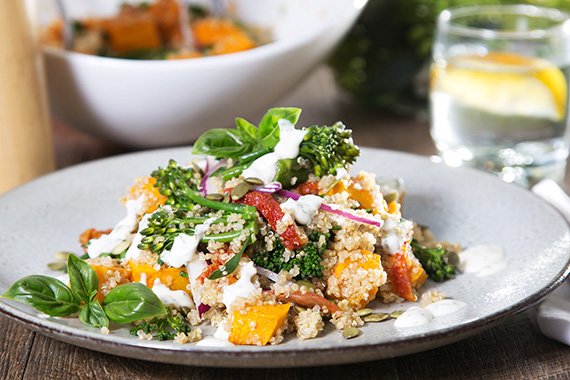 Pumpkin, Broccolini & Quinoa Salad with Sun Dried Tomatoes & Basil Mayonnaise
Prep time:

35

minutes

Calories: 310
You don't have to be vegetarian to adore this dish. The sweetness of roast pumpkin, texture of broccolini and pepitas, and combination of fresh basil combine to deliver a meal that will seduce all your senses.
Ingredients
1⁄2 Cup of White Quinoa

400 g of Butternut Pumpkin

1 Small Bunch of Basil

100 g of Sundried Tomatoes Pieces

1 of Red Onion

1 Tbsp of Vege Stock Concentrate

50 g of Mayonnaise

1 Bunch of Broccolini

1 1⁄2 Tbsp of Pepitas

1 1⁄2 Tbsp of Baby Capers
Recipe
Roast Pumpkin:
Preheat oven to
200°C.
Put a pot of water on to boil over high heat. Using a spoon, scrape out and discard the seeds of the
pumpkin
. Carefully remove skin with a sharp knife. Cut
pumpkin
into 1
1
⁄
2
cm pieces. Place on a lined baking tray, drizzle with olive oil and season with salt and pepper. Roast in oven until tender, about 20 minutes.
Cook Quinoa:
Place
quinoa
into fine sieve/colander and rinse well under cold water. Place
quinoa
in a pot with
stock concentrate
and 1 cup of water and bring to the boil. Reduce heat and simmer for about 10 minutes or until all liquid has been soaked up and
quinoa
is tender and fluffy.
Cook Broccolini:
When water is boiling, add
broccolini
and cook until bright green, about 2 minutes. Drain well and allow to cool slightly, 2-3 minutes and cut into thirds.
Prepare Dressing:
Pick basil leaves (discard stems)and roughly chop
basil.
Thinly slice
1⁄4 of the red onion
. In a small bowl, combine
mayonnaise
and chopped
basil,
adding a little water to reach your desired consistency.
You Plate It:
In a large salad bowl, combine
pumpkin, quinoa, broccolini, red onion, broccolini, sun dried tomatoes, pepitas
and
baby capers
. Toss well and dress with
basil mayonnaise
. Divide between bowls and enjoy!