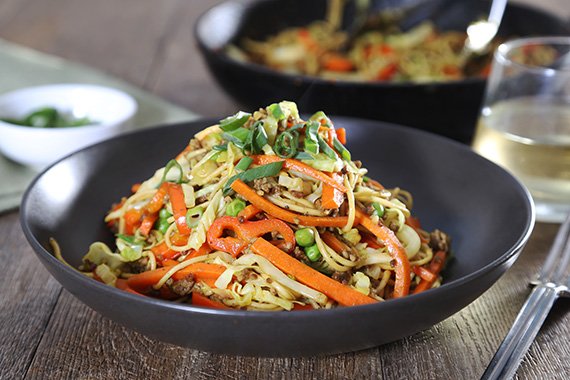 Quick & Easy Beef Lo Mein with Egg Noodles & Plenty of Veg
Prep time:

25

minutes

Calories: 650
This recipe ticks all the boxes - quick, easy and kid friendly. Share the moment #youplateit with us on Instagram and Facebook - we love to share your triumph. Fun Fact: The term lo mein comes from the Cantonese, meaning "stirred noodles".
Ingredients
100 Grams of Egg Noodles

250 Grams of Beef Mince

1 Carrot

1 Red Capsicum (Small)

2 Spring Onion

40 Grams of Peas

100 Grams of YPI Stir Fry Sauce

0.125 Green Cabbage

2 Teaspoons of Curry Powder

2 Garlic Clove

2 Teaspoons of Cornflour
Recipe
Prepare Ingredients:
Wash the fresh produce. Cut the carrot into matchstick size pieces (alternatively, just use a box grater). De-seed capsicum and thinly slice. Thinly slice spring onion on a slight angle, keeping the white and green parts separate. Peel and mince garlic. Finely shred cabbage. Put a pot of water on to boil (for step 3).
Brown Beef:
Heat a drizzle of olive oil in a non stick pan over medium heat. Add mince, breaking up any lumps with a wooden spoon and cook 3 - 4 minutes, until lightly browned. Season with salt and pepper.
Cook Egg Noodles:
Add the egg noodles to the pot of boiling water. Cook 5 - 6 minutes, or until tender. Drain thoroughly and rinse under warm water to prevent the noodles from sticking together.
Add Vegetables:
Mix cornflour with ¼ cup water in a small bowl, stirring well. Add the carrot, capsicum, garlic and white parts of spring onion to the browned mince and stir fry for 3 minutes. Add the curry powder and stir fry for another minute or until fragrant. Add the YPI stir fry sauce, noodles and cornflour water. Stir fry for 2 minutes or until well combined and sauce has thickened slightly.
You Plate It:
Add the peas, cabbage and green parts of spring onion. Stir fry for 1 - 2 minutes or until cabbage just wilts. Divide among serving bowls, garnish with remaining spring onion and enjoy!