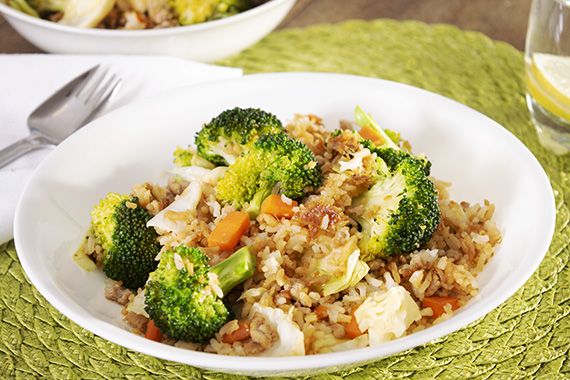 Quick & Easy Pork Fried Rice with Broccoli & Carrot
Prep time: 20
Calories: 506
This quick and simple fried rice is sure to please the whole family - healthy and delicious. And if you happen to have leftovers, it's great for lunch the next day! Tip: if you want to cook your rice the day before, go ahead, just heat it through a bit longer in step 5. Share your moment on Instagram #youplateit #nomorewhatsfordinner.
Ingredients
2 Tablespoons of YPI Soy & Vinegar

0.75 Cups of Jasmine Rice

250 Grams of Pork Mince

0.125 Green Cabbage

0.5 Broccoli (small)

1 Carrot

1 Garlic Clove

1 Ginger
Recipe
Cook Rice:
In a medium pot, bring 1⅓ cup water to a boil. Stir in the rice; cover and reduce the heat to low. Simmer for 15 minutes until all of the water is absorbed. Taste the rice; if it is still too firm, add a few more tablespoons of water. Cover the pot and let the rice absorb the water off of the heat. Fluff the finished rice with a fork.
Prepare Ingredients:
Wash the fresh produce. Peel and mince garlic and ginger. Peel carrot and cut into 1cm dice. Cut broccoli into florets and roughly chop cabbage into 1.5 - 2 cm dice.
Brown Pork:
To a large pan over medium high heat, add enough oil to coat the pan. Add mince and stir fry, breaking up with a spoon, about 4 minutes - until browned and cooked through. Set mince aside in a bowl to keep warm.
Cook Vegetables:
Using the same pan, add a little more oil to coat the pan. Over medium high heat, add ginger, garlic, carrot and broccoli and stir fry for 2-3 minutes until vegetables are tender. Stir in cabbage and cook for a further minute.
Add Rice:
Add pork, rice and soy/vinegar mix and stir until well coated. Season to taste with salt and pepper.
You Plate It:
Divide fried rice between bowls and serve. Enjoy!