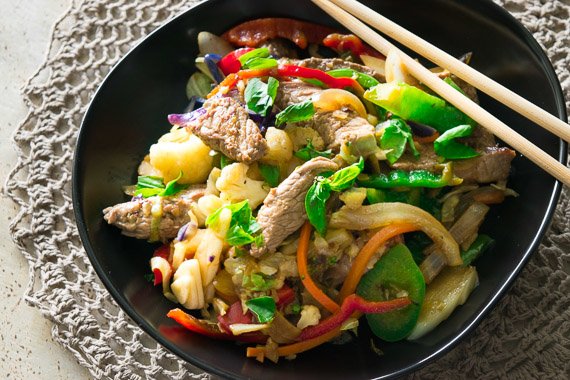 Quick Steak Strips with Ginger, Oyster Sauce and Crisp Stir Fry Vegetables
Prep time:

20

minutes

Calories: 360
Cooking Tip: Adding and cooking the beef in batches is very important when browning it. If you add too much meat at once, the pan (or wok) will lose its heat and the meat will stew and become tough.
Ingredients
1 Brown Onion

2 Garlic Clove

1 Ginger

150 Grams of Snow Peas

300 Grams of Porterhouse Steak (Thick-Cut)

1 400 Gram Pack of Stir Fry Veg (Chopped)

3 5 Gram Pack of Soy Sauce

3 Tablespoons of Oyster Sauce

0.5 Teaspoons of Chinese Five-Spice
Recipe
Prepare Ingredients:
Peel and cut the onion into 1 cm wedges. Peel and thinly slice the garlic and ginger. Trim the ends and remove the thin string from the snow peas. Pat dry steak with paper towel, season both sides with salt. Cut steak into 1½ cm strips, sprinkle over Chinese five spice and toss well.
Heat Pan or Wok to High Heat:
Heat a large high sided pan (or wok) over high heat. Once the pan is hot, add 1 Tbs peanut or vegetable oil and carefully swirl around to coat the side of the pan. Heat until very hot. (Tip: It is important to heat the pan before adding the oil, otherwise the oil can end up overheating and burning. You will know if the oil is hot enough if the beef starts to sizzle when added to the pan.)
Add Beef:
Add half of the beef strips and stir fry for 1-2 minutes or until the beef is browned and just cooked. Transfer to a plate. Repeat with the beef second batch, reheating the pan between each batch. Remove beef from the pan and set aside.
Add Veg:
Heat more oil in the pan over medium heat. Add the onion, ginger, snow peas, then stir fry for 2 minutes. Add the stir fry veg, cook for 2 minutes more, or until the vegetables are just tender.
You Plate It:
Add the soy sauce, garlic and oyster sauce. Toss until well to combine. Add the beef, including the juices from the pan, and combine until heated through and cooked to your liking. Serve immediately. Season to taste. Enjoy!