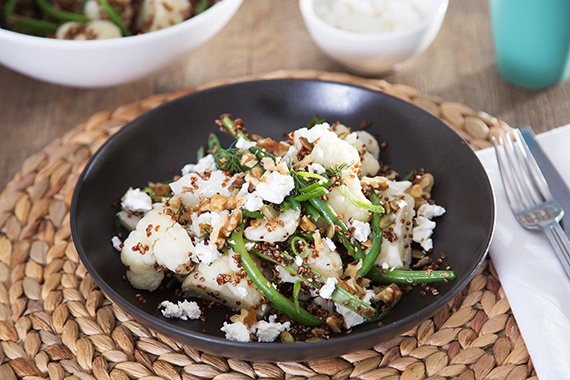 Quinoa & Cauliflower with Beans, Toasted Seeds & Fetta
Prep time:

25

minutes

Calories: 650
Seeds contain all the starting materials necessary to develop into complex plants. Because of this, they are extremely nutritious and are great sources of fibre. They also contain healthy monounsaturated fats, polyunsaturated fats and many important vitamins, minerals and antioxidants. When consumed as part of a healthy diet, seeds can help reduce blood sugar, cholesterol and blood pressure. Not to mention, added to a salad, they are delicious! Share the moment #youplateit on Instagram and enjoy!
Ingredients
0.5 Cauliflower

120 Grams of Green Beans

60 Grams of Danish Fetta

35 Grams of Seed Mix

1 Small Bunch of Dill

1 Tablespoons of Red Wine Vinegar & Honey

0.75 Cups of Red Quinoa

1 Spring Onion

2 Tablespoons of Walnuts
Recipe
Cook Quinoa:
Place quinoa into fine sieve/colander and rinse well under cold water. Place quinoa in a pot with 1½ cup of water and bring to the boil. Reduce heat and simmer for about 15 minutes or until all liquid has been soaked up and quinoa is tender and fluffy.
Prepare Ingredients:
Meanwhile, bring a pot of salted water to the boil. Wash the fresh produce. Trim ends off green beans and cut in half length ways. Cut cauliflower into bite size florets. Pick dill, discarding stems. Roughly chop walnuts. Thinly slice spring onion.
Cook Cauliflower & Beans:
Add cauliflower florets to the boiling water and cook for 2 minutes. Add beans and cook for a further 1 minute. Drain, refresh in cold water.
Toast Seeds & Make Dressing:
Heat a pan over medium heat. Add seed mix and toast 2-3 minutes, or until starting to brown - being careful not to let burn. Set aside. In a small bowl combine red wine vinegar/honey and 2 TBS olive oil (extra virgin if you have it) and mix well.
You Plate It:
In a large bowl combine quinoa, cauliflower and beans with dill, spring onion and dressing. Season with salt and pepper - mix well to combine. Divide between bowls and garnish with crumbled fetta and walnuts. Enjoy!