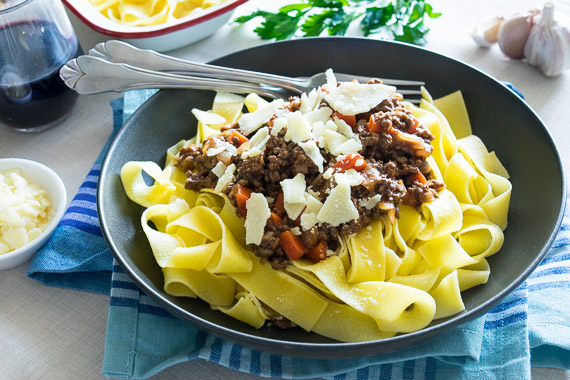 Ragu Beef Bolognese with Shaved Parmesan, Red Wine & Pappardelle Pasta
Prep time: 40
Calories: 710
Bolognese, known in Italian as ragu alla Bolognese, or simply ragu, is a meat based sauce originating from Bologna in Italy's north. This recipe includes the classic ingredients of onion, garlic, red wine and tomato. Cooking Tip: The longer the bolognese simmers, the more concentrated the flavour will be. Simmer slow and low, or eat sooner with a quicker simmer over higher heat. It's a win-win!
Ingredients
300 Grams of Beef Mince

1 Carrot

1 Brown Onion

2 Garlic Clove

1 Tablespoons of Tomato Paste

0.25 Cups of Red Wine

1 30 Gram Pack of Concentrated Beef Stock

2 Tablespoons of Parmesan (Shaved)

1 250 Gram Pack of Pappardelle Pasta
Recipe
Brown Beef:
Heat olive oil in a high-sided pan or pot over medium heat. Pat beef dry with paper towel. When oil is shimmering, add beef and season with salt and pepper. Cook, breaking up until the beef loses its colour, about 5 minutes.
Prepare Vegetables:
In the meantime, medium dice carrot and ⅔ of the onion you will have remainder. Peel and mince garlic.
Sauté Vegetables:
Add carrot, onion and about 1 tablespoon of water if mixture appears dry; stir to combine. Sauté until beginning to soften, about 5 minutes. Add garlic and tomato paste; stir to combine. Cook for about 1 minute more.
Simmer Bolognese:
Add concentrated beef stock, 1 cup water and the red wine. Stir well to combine. Increase heat to high and bring to a boil, then reduce heat to medium and simmer until liquid has reduced slightly and flavours have melded, 15-30 minutes. If cooking for longer than 20 minutes, decrease heat to low see cooking tip in overview. Taste and add salt and pepper as needed.
Cook Pappardelle:
With 15 minutes remaining, heat a large pot of salted water to a boil. Add ⅔ of the pasta you will have remainder for another time, ensuring that the pasta is covered by the water. Cook for about 8 minutes, or until cooked as desired. Drain.
You Plate It:
Divide pasta evenly between plates or bowls. Spoon over bolognese, garnish with parmesan and serve. Enjoy!