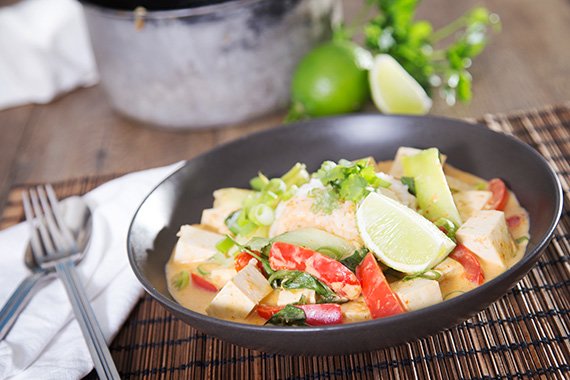 Red Coconut Curry Tofu with Lemongrass, Ginger & Lime over Jasmine Rice
Prep time:

35

minutes

Calories: 460
In this rich, lightly spicy soup, you will use lemongrass (a traditional Southeast Asian herb) together with ginger, garlic and spring onion to bring a zesty crunch to each bite. Don't forget to read all the steps before you start, it will make it easier for you to picture how it all comes together. Enjoy!
Ingredients
2 Garlic Clove

1 Tablespoons of Minced Lemongrass

1 Ginger

1 Small Bunch of Coriander

1 Lime

1 400 Gram Pack of Tofu - Firm

1 Red Capsicum (Small)

1 Spring Onion

0.75 Cups of Jasmine Rice

1 Tablespoons of Thai Red Curry Paste

1 160 Gram Pack of Coconut Milk

1 Palm Sugar Piece

1 Pak Choy
Recipe
Cook Rice:
In a small pot, bring 1⅓ cups water to a boil. Stir in the rice; cover and reduce the heat to low. Simmer for 15 minutes until all of the water is absorbed. Taste the rice; if it is still too firm, add a few more tablespoons of water. Cover the pan and let the rice absorb the water off of the heat. Fluff the finished rice with a fork.
Prepare Ingredients:
Wash the fresh produce. Peel and mince garlic and ginger. Roughly chop the coriander. Zest the lime and cut into quarters. Cut the tofu and capsicum into bite-sized pieces. Thinly slice the spring onion, keeping the white and green parts separate. Trim pak choy ends (and discard) and cut into quarters lengthwise.
Cook Aromatics:
In a pot, heat olive oil on medium until hot. Add garlic, ginger, lemongrass and white parts of the spring onion. Cook, stirring frequently, 1 to 2 minutes, or until fragrant. Add the capsicum and season with a little salt and pepper. Cook 1 to 2 minutes, or until capsicum has softened, stirring occasionally.
Toast Curry:
Add as much of the red curry paste as you'd like, depending on how spicy you'd like the dish to be (start small - it is pretty hot!). Cook 1 to 2 minutes, stirring frequently, or until the curry paste is toasted and fragrant.
Add Liquids:
Coarsely grate (or thinly slice with a sharp knife) ½ of the palm sugar piece (you only need half for this recipe). Add coconut milk, grated palm sugar, lime zest and 1 cup of water. Season with a little salt and pepper. Reduce heat to medium-low and cook, stirring occasionally, 4 to 5 minute, or until thoroughly combined. (Tip: Be careful not to boil the soup as the coconut milk may separate.)
You Plate It:
Gently add the tofu and pak choy to the soup and cook, occasionally stirring gently, 6 to 8 minutes, or until the tofu has absorbed some of the curry flavour, season with salt and pepper to taste. Turn off the heat and stir in half of the coriander and the juice of 2 lime wedges. Divide the rice and soup between bowls. Garnish with the green parts of the spring onions and the remaining coriander and lime wedges. Enjoy!