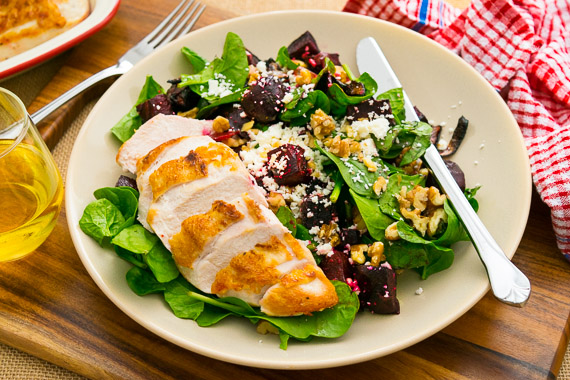 Roast Chicken & Beetroot with Baby Spinach, Walnut and Fetta Salad
Prep time: 30
Calories: 600
Fun facts: The ancestor of our modern beetroot is called the sea-beet, and it grew all along the coast of the Mediterranean Sea. This ancient food was eaten widely and archaeologists have uncovered remains in Egypt dated to 2600BC. The remains of this ancient plant are still evident in the crop grown commercially today where farmers are required to feed the plant with boron, an element found in coastal soil.
Ingredients
3 Red Beetroot

1 Red Onion

4 Garlic Clove

0.25 Cups of Walnuts

40 Grams of Danish Fetta

1 75 Gram Pack of Baby Spinach

2 Chicken Breast (skin on)
Recipe
Roast Vegetables:
Preheat oven to 180°C. Peel and dice beetroot into 1½ cm pieces. Cut red onion into 1 cm slices. Combine diced beetroot, sliced red onion and whole garlic cloves on a lined baking tray with a drizzle of olive oil. Season with salt and pepper. Add to oven, set timer for 15 minutes time.
Sear Chicken:
Remove chicken from refrigerator, pat dry with paper towel and season both sides with salt. Heat olive oil in a large pan over medium-high heat. When oil is shimmering, add the chicken, skin side down and sear until skin is golden, about 4 minutes. Remove chicken from pan.
Add Chicken:
After 15 minutes of the vegetables roasting, add seared chicken, skin side up, to the same baking tray. Roast for about 10 minutes, until the chicken is cooked through. Set aside to cool. If desired, add the beetroot back to the oven to roast for 5 minutes longer.
Prepare Salad:
In the meantime, add baby spinach to a large bowl. Roughly chop walnuts. Crumble fetta. Once the vegetables have roasted and cooled, add to the large bowl with baby spinach. Sprinkle with walnuts and fetta.
You Plate It:
Slice the roasted chicken and divide salad between plates. Season to taste. Enjoy!