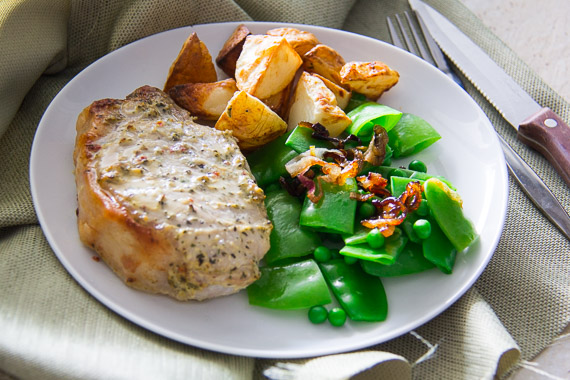 Roasted Mustard Pork & Golden Potatoes with Spring Pea Salad and Crispy Shallots
Prep time: 30
Calories: 720
"Herbes de Provence", named for the region of France, is a dried herb mixture. It's typically made from rosemary, thyme, lavender, savoury, oregano and marjoram. Whisked with Dijon mustard and olive oil in this recipe, they coat the pork and baby potatoes before roasting. Happy cooking!
Ingredients
1 Shallot

200 Grams of Sugar Snap Peas

500 Grams of Baby Potatoes

2 Pork Loin Chops, boneless

1.5 Tablespoons of Dijon Mustard

1 Tablespoons of Herbes de Provence

0.5 Cups of Peas
Recipe
Prepare Ingredients:
Preheat oven to 200°C. Wash the fresh produce. Peel shallot and thinly slice. Medium dice potatoes. Trim ends off the sugar snap peas then cut in half. Pat dry pork with paper towel.
Prepare Pork and Potatoes:
In a small bowl, mix together Dijon mustard, Herbes de Provence, and 2 tablespoons olive oil. Season with salt and pepper. Place pork on a baking tray and pour over mustard mixture, coating both sides.
Roast Pork and Potatoes:
Add potatoes in a single layer then season with salt, pepper and a drizzle of olive oil. Roast in oven until pork is golden on outside and cooked through and potatoes are tender, about 20 minutes. Remove and set aside, allowing pork to rest for about 5 minutes. Note: If the potatoes require extra cooking time, place them back in the oven for 5 minutes while the pork rests.
Blanch Peas:
With 5-10 minutes left to roast, add snap snap peas and a generous pinch salt to a medium pot of boiling water. Cook until bright green, about 2 minutes. Then add peas and cook until warmed through, about 1 minute more. Drain and transfer to a medium bowl.
Fry Shallot:
Heat 2 tablespoons olive oil in a medium pan over medium-high heat. When oil is shimmering, add shallot and cook until golden and crispy, 4-5 minutes. Remove to a paper towel-lined plate to drain, reserving oil in pan. Add 1 tablespoon reserved cooking oil and crispy shallots to bowl with peas and toss to coat.
You Plate It:
Taste pea salad, adding salt and pepper as needed. Divide pork, potatoes, and pea salad evenly between plates. Enjoy!