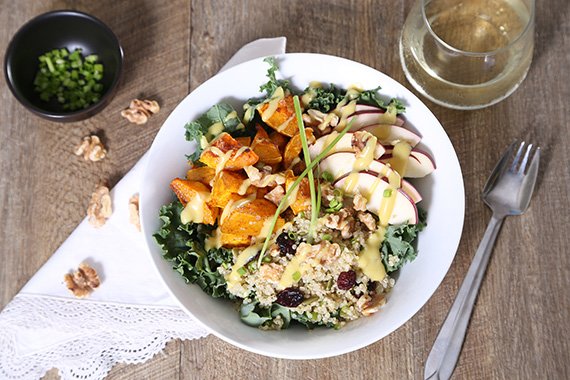 Roasted Pumpkin Quinoa Bowl with Apple, Walnuts & Dijon Vinaigrette
Prep time:

30

minutes

Calories: 450
Vegetarian, midweek winner! The roasted pumpkin, the sweet and tart cranberries, apples and toasty walnuts add so much texture and flavour. A nest of kale is a grassy wonderful addition and then apple cider Dijon vinaigrette drizzled over the top for an extra flavour pop. Share the moment #youplateit with us on Instagram and Facebook. Enjoy!
Ingredients
1⁄2 Cup of White Quinoa

1 Tbsp of Apple Cider Vinegar

450 g of Butternut Pumpkin

1⁄3 Bunch of Kale

1 Small Bunch of Chives

1 Tbsp of Dijon Mustard

2 Tbsp of Walnuts

2 Tbsp of Pepitas & Dried Cranberries

1 of Red Apple

1⁄2 Tsp of Cumin & Smoked Paprika
Recipe
Roast Pumpkin:
Preheat oven to 200°C. Wash the fresh produce. Cut pumpkin into 2 cm pieces (peeling is optional). Drizzle pumpkin with olive oil, toss with cumin & smoked paprika to coat and season with salt and pepper. Place pumpkin on a lined baking tray and roast in the oven for 20 - 25 minutes, until tender.
Cook Quinoa:
Meanwhile; place quinoa into fine sieve/colander and rinse well under cold water. Place quinoa in a pot with 1 cup of water and bring to the boil. Reduce heat and simmer for about 10 minutes or until all liquid has been soaked up and quinoa is tender and fluffy.
Prepare Remaining Ingredients:
Remove stems on kale and roughly chop. Finely chop chives. Cut apple in half, remove and discard seeds then thinly slice. (TIP: If you prefer, you can add the kale to the quinoa towards the end of the cooking time, to allow it to wilt slightly).
Dry Toast Walnuts:
Add walnuts to a dry pan over medium heat. Toast, tossing, 3 - 4 minutes or until lightly golden. (TIP: Be careful not to burn the walnuts). Remove from heat.
Make Vinaigrette:
In a small bowl (jug) combine Dijon mustard, apple cider vinegar and 2 - 3 TBS olive oil (extra virgin if you have it). Mix well. (TIP: If you have a clean, empty jar - chuck all of the ingredients in there and give it a good shake).
You Plate It:
Add chives (reserving some for garnish), pepitas and cranberries to the cooked quinoa, mix through and adjust seasoning as necessary. Divide kale between bowls and top with roasted pumpkin, quinoa, sliced apple and toasted walnuts. Drizzle vinaigrette over the top and garnish with any remaining chives. Enjoy!