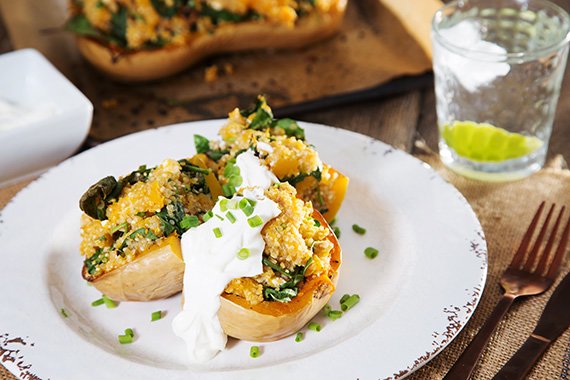 Roasted Pumpkin with Quinoa, Spinach Fetta & Toasted Walnuts
Prep time:

40

minutes

Calories: 750
Meat free mid week meals at their best! Roast your butternut while you cook quinoa, then mix it up with spinach and fetta for a savoury contrast to the sweet roasted pumpkin. Sometimes the simple meals are the best. Share the moment #youplateit on Instagram and Facebook.
Ingredients
1 Butternut Pumpkin (small)

1 75 Gram Pack of Baby Spinach

0.5 Cups of White Quinoa

40 Grams of Fetta Cheese

20 Grams of Walnuts

1 Tablespoons of Red Wine Vinegar

2 Teaspoons of Vege Stock Concentrate

1 Small Bunch of Chives

70 Grams of Greek Yoghurt
Recipe
Roast Pumpkin:
Preheat the oven to 220°C. Line a tray with baking paper. Cut pumpkin in half length wise and using a spoon, discard pumpkin seeds. Drizzle with 1 TBS oil, season with salt and pepper and place pumpkin cut-side down on the tray. Roast for 25 - 30 minutes or until almost cooked through.
Cook Quinoa:
Place quinoa into fine sieve/colander and rinse well under cold water. Place quinoa in a pot with 1 cup water and vege stock concentrate and bring to the boil. Reduce heat and simmer for about 10 minutes or until all liquid has been soaked up and quinoa is tender and fluffy.
Toast Walnuts:
Place the walnuts in a dry pan and toast for 3 minutes over medium-high heat. Shake the pan at regular intervals until lightly roasted and golden. Set aside to cool.
Prepare Shell:
Coarsely chop the walnuts. Finely chop the chives. Carefully turn the pumpkin over and scoop out some of the cooked flesh leaving a 2 - 3 cm thick shell.
Make Stuffing:
Place the scooped pumpkin flesh in a large bowl with the spinach. Crumble fetta into the bowl and add the quinoa, walnuts, vinegar, chives (reserving some for garnish), 2 TBS olive oil (extra virgin if you have it) and season with salt and pepper. Combine using your hands.
You Plate It:
Carefully mound the filling into and on top of the pumpkin and return to the oven (it's OK if some spills onto the tray). Bake for 5 - 8 minutes or until the filling is lightly golden and the pumpkin is tender. Serve with yoghurt, garnish with any remaining chives and enjoy!