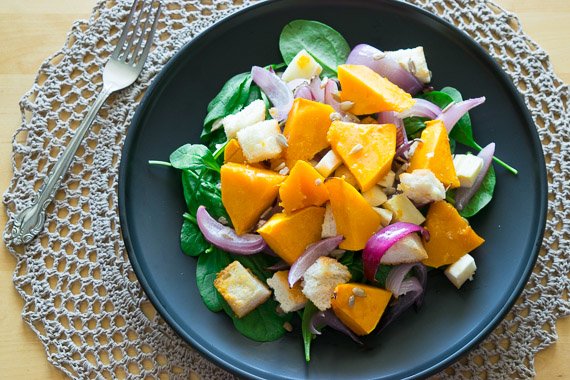 Roasted Winter Salad with Crunchy Ciabatta Croutons
Prep time: 35
Calories: 414
This warm salad is a delightful combination of soft pumpkin, earthy pine nuts and crunchy hand-rolled ciabatta rolls. The final step of this easy to prepare recipe is combining red wine vinegar, Dijon mustard and olive oil to make what is a versatile dressing you can re-make for almost any salad. Share your dinner #youplateit #nomorewhatsfordinner
Ingredients
0.5 Butternut Pumpkin

1 Red Onion

2 Parsnip

1 Tablespoons of Honey

1 Ciabatta Roll

1 Tablespoons of Sunflower Seeds

1 150 Gram Pack of Baby Spinach

1 Tablespoons of Red Wine Vinegar

0.5 Teaspoons of Dijon Mustard
Recipe
Prepare & Roast Vegetables::
Preheat the oven to 220°C. Wash the fresh produce. Slice ½ of the red onion into 1 cm wedges and finely dice remaining half. Cut parsnip into 1 cm wedges. Cut pumpkin into 1 cm wedges, discarding seeds and skin. Add pumpkin, parsnip and red onion wedges to a lined large roasting tin (or tray), drizzle with olive oil and season to taste. Roast for 25 minutes. At the halfway point, toss vegetables and drizzle with the honey.
Add Ciabatta & Sunflower Seeds:
In the meantime, cut the ciabatta into 1½ cm cubes. After 25 minutes of roasting, scatter the cubed ciabatta and sunflower seeds over the top. Return to the oven for a further 5 minutes or until toasted.
Add to Bowl:
Put the spinach into a large bowl and add the roasted vegetables and ciabatta.
Make Dressing:
Whisk the vinegar, mustard, 2 Tbs olive oil (extra virgin if you have it) and 1 Tbs of the diced onion (to taste) together to make a dressing.
You Plate It:
Season dressing to taste and toss into the salad bowl until the spinach wilts slightly. Enjoy!