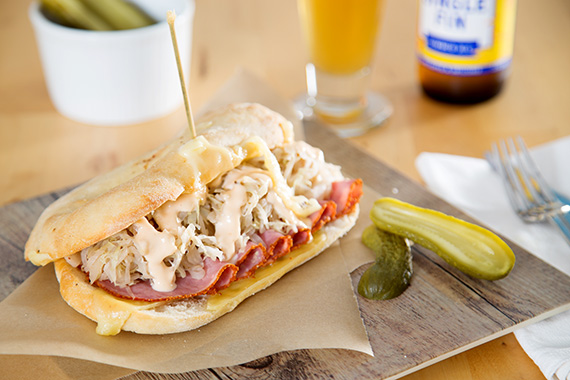 Rueben Focaccia with Cheats Sauerkraut & Pickles
Prep time: 15
Calories: 700
The Rueben: King of sandwiches - You Plate It style! In this recipe you will make your own cheats version of 'sauerkraut' - which is traditionally fermented sliced cabbage. Combine this with the delightful dressing and pastrami, and you'll be begging for me. Trust us, there won't be leftovers. Make your friends jealous and post your pics on Instagram #youplateit
Ingredients
2 Focaccia Panini

1 250 Gram Pack of Sauerkraut Pack

3 Swiss Cheese Slices

2 Pickles

50 Grams of Russian Dressing

0.5 Cups of Apple Cider Vinegar

1 100 Gram Pack of Pastrami Sliced

1 Teaspoons of Sauerkraut Spice Mix
Recipe
Prepare Sauerkraut:
Preheat oven to 180°C. Heat apple cider vinegar and ½ cup of water in a pot. As it starts to boil, add sauerkraut pack and spice mix. Mix well, and bring back the boil. Cover and reduce the heat to simmer, 10-15 minutes. Drain excess liquid off.
Toast Bread:
Halve focaccia lengthwise and place cut side up on a lined baking tray. Toast for 5 minutes in the oven.
Melt Cheese:
Remove bread from oven. Cut cheese slices in ½ and layer cheese on bread and place back in oven to melt for 5 minutes more.
Layer Sandwich:
On the bottom half of the roll, layer pastrami then top with a generous portion of sauerkraut.
You Plate It:
Top with as much dressing as desired. Smoosh the lid down on each sandwich and serve with some halved pickles. Enjoy!